Make-A-Wish Greater Bay Area is teaming up with NBC Bay Area/KNTV, Telemundo 48 Área de la Bahía/KSTS, NBC Sports Bay Area and Comcast Spotlight for a one-day "Wish-A-Thon for Miles," on Tuesday, June 25. The event aims to raise 5 million or more of the 44 million airline miles needed annually in the Greater Bay Area to be able to send children with critical illnesses on wish trips.
Of the almost 400 wishes granted by Make-A-Wish Greater Bay Area last year, nearly 80 percent included air travel for families.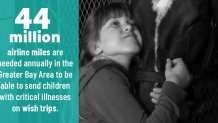 "Donating unused airline miles is an easy way for supporters to help us grant children's wishes and give them an experience that improves the quality of life for them and their families," said Betsy Biern, CEO of Make-A-Wish Greater Bay Area. "We are thankful for our partnership with Comcast and their family of networks including NBC, NBC Sports and Telemundo. Without the support of local partners and generous donors, we would be unable to continue to grant the wishes of Bay Area kids."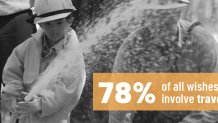 Ways to donate during the "Wish-A-Thon for Miles" on June 25: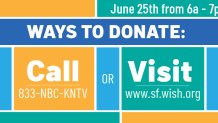 "The Make-A-Wish foundation does phenomenal work and we're just happy to give people an easy way to help out by donating airline miles that they otherwise may not be using," said Stacy Owen, President and General Manager of NBC Bay Area and Telemundo 48.
NBC Bay Area (Comcast channel 3, 703 and over-the-air on 11) and Telemundo 48 (Comcast channel 18, 718 and over-the-air on 48) will air live updates of the fundraiser throughout the day on Tuesday, June 25. Use #WishathonSF to follow the fundraiser online and follow @nbcbayarea, @telemundo48 , and @SFWish on Twitter.