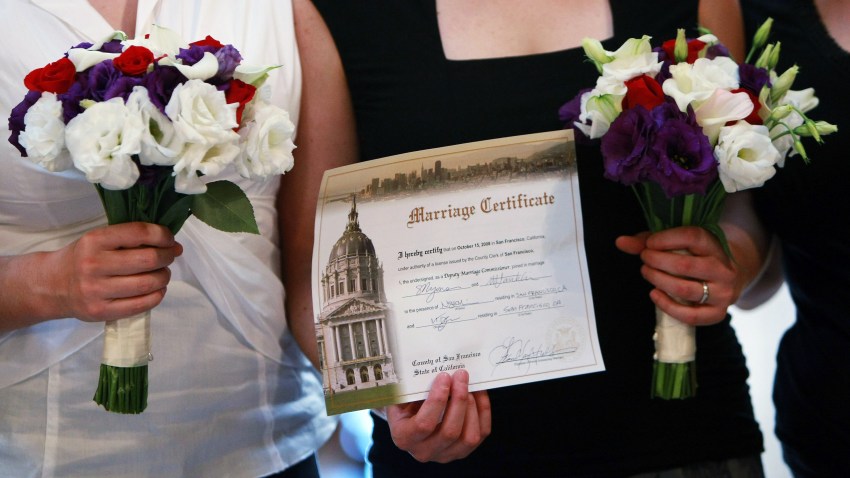 City officials in San Francisco are preparing to perform hundreds of same-sex marriages starting today and running through this weekend if a federal judge lifts an order barring gay marriages.
Judge Vaughn Walker on Wednesday issued a landmark ruling overturning Proposition 8 (read the full ruling here), California's ban on gay marriage. But he also issued a temporary stay preventing local officials from immediately issuing marriage licenses for same-sex couples.
Walker must now decide how long that stay will last. Same-sex marriage opponents want the stay to remain in place while the case is appealed to the 9th Circuit Court of Appeals, but Walker could rule that there is no reason to keep the stay in place. Both sides were expected to file motions arguing the mertis of the stay by Friday, and Walker's decision could come any time. If he lifts the stay, same-sex couples would be able to marry immediately.
If that happens, San Francisco City Hall will once again become a place for wedded bliss this weekend, just as it was in 2008 when Mayor Gavin Newsom signed an order allowing same-sex marriages.

City Assessor Recorder Phil Ting is getting ready for the ceremonies. Ting says that if there is a window of wedding opportunity for legal nuptials, he will extend his hours and stay open all weekend.

Ting says on his Facebook page, "Getting ready to marry people in SF. If stay is lifted, SF City Hall open Fri til 8 & Sat-Sun 9-5." He says he is ramping up staff and asking for volunteers to help. They will spring into action if the judge decides to allow it.

If the stay is lifted Friday, same-sex marriage opponents are expected to ask a higher court for a stay. But it may take time for the court to answer.