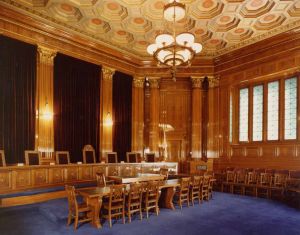 Gov. Arnold Schwarzenegger really wants to go out with a bang before he leaves office in two weeks.

The lame duck politician is doing all he can to use real estate to help terminate the state's budget woes.

Schwarzenegger's administration is asking the California Supreme Court to intervene and take the decision to sell 24 state buildings from the 6th District Court of Appeal in San Jose.

A San Jose judge blocked the move to sell the buildings, which ironically includes the California Supreme Court in San Francisco.

The governor argues that selling the buildings for a net profit to the state of $1.2 billion will help save California in the long term. But critics argue the plan makes no sense since California will be forced to lease the buildings right back.

Still Schwarzenegger is pushing the state Supreme Court to act because he says if it does not the buildings could be lost forever under the weight of California's crippling budget gap.

In a brief filed with the court, Schwarzenegger's attorneys argued the Supreme Court must step in "because time is of the essence and the transaction must close by year end or probably be lost forever."

But the governator's time in office is running short. A decision is not likely to be reached until after Gov.-elect Jerry Brown takes over next year.