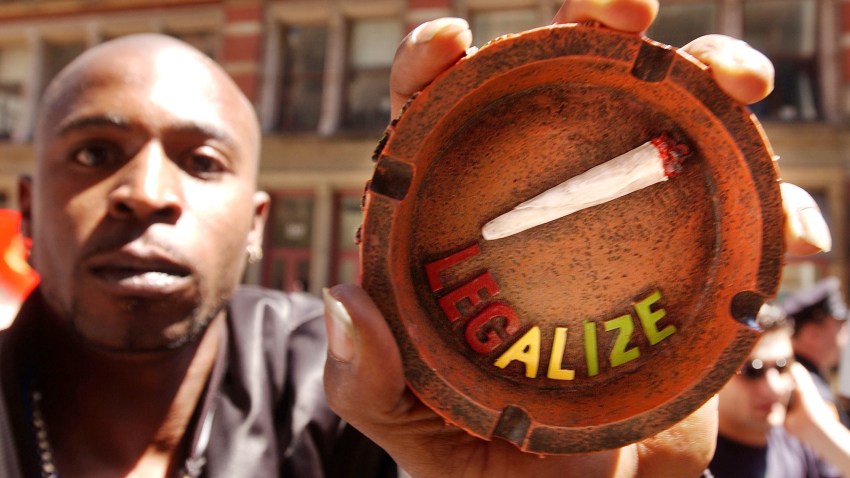 There's a special combination of numbers on today's calendar.

April 20 is a high holiday, of sorts. The digits 420 have come to represent marijuana smoking and even more recently, the push to legalize it.

Rumors swirl about how the numbers came to signify pot smoking. Some people say the combo came from the police designation for marijuana posession and others associate the code with number of active chemicals in weed.

But the real origin of what's come to be known as National Weed Day lies in a Bay Area schoolyard. In 1971, a group of students at San Rafael High School would gather on campus after classes with their friend, Mary Jane. By the time they got to their spot to smoke pot, it was 4:20 p.m.

With the heavy focus on repealing marijuana prohibition, this year's 420 parties have a strong political stench.

The National Organization for the Reform of Marijuana Laws (NORML) has dubbed today Marijuana Freedom Day and is calling for donations for their mission. They've taken their regular site offline -- just for the day and instead have a page up asking for $4.20 from people for the Control and Tax Cannabis California 2010 initiative. Here's a snippet of their message:
While the ravages and costs of cannabis prohibition are largely defined by one's geography—these days America is a hodge-podge of varying cannabis penalties, ranging from West Hollywood California where a medical cannabis patient can access the herb 24/7 from a vending machine; in Indiana, if caught with just a little cannabis on one's person, they're getting arrested, prosecuted and likely going to jail—this '4/20′ celebration in 2010, as is NORML tradition, is a combination of both the serious and silly!
Advocates in the Bay Area got a jump on the 420 festivities. Over the weekend, the International Cannabis and Hemp Expo drew thousands to the Cow Palace to take in over 100,000 square feet of exhibits and appearances by leaders in the marijuana legalization movement.

And on Monday night outside Oakland's marijuana megastore iGrow, several hundred revelers showed up to celebrate 420 Eve. They waited behind the gates until the official start time -- 4:20 p.m., of course.
Thousands of people will gather today on the campus of UC Santa Cruz, long-known host of 420 smokefests, but dwindling school resources have forced officials to take a softer approach to crowd control. The thought of allowing a day celebrate pot smoking is a bizarre one. However, debate among campus leaders is more one of using resources efficiently, not whether to allow the event.

No matter where you are these days, yelling 420 in a crowded room will likely invoke a few snickers and probably turn plenty of heads looking for who's passing the joint. The main difference this year is that advocates are not only asking to "Pass the Dutchie," they're also pushing to pass the initiative.