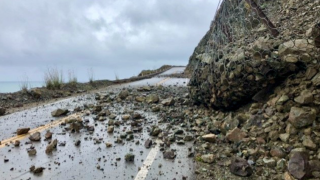 Highway 1 along the Big Sur coast reopened at 9:15 a.m. Thursday after crews cleared fallen rocks and debris in the road, Caltrans officials said.
Due to ongoing rain, debris fell between Ragged Point in San Luis Obispo County and Deetjen's Big Sur Inn in Monterey County. Caltrans officials closed the 44.6-mile stretch of the road for a little over 12 hours to clear the debris.
Caltrans reminds residents to drive cautiously in rainy conditions, especially through Highway 1.
It's the second time in less than two weeks the highway has been closed due to storm-related issues.
During a previous storm earlier this month, Caltrans closed a 44-mile section of the coastal highway at the request of the California Highway Patrol, as a major rain storm swept through the region.
It remained closed after the heavy rain sent rocks and boulders onto the roadway.
Updates on traffic updates in Monterey and San Luis Obispo Counties can be found at the District 5 webpage.