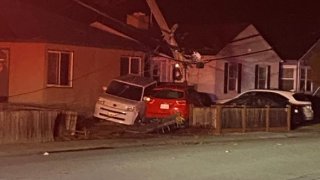 A single vehicle hit-and-run crash early Friday morning severed a power pole and left a neighborhood in San Mateo without power.
Officers with the San Mateo Police Department responded Friday at 12:35 a.m. to the 200 block of S. Norfolk Street on a report a vehicle crashed into a residence.
Responding officers located a PG&E power pole in front of the residence that had been severed and was suspended by power lines, police said. The driver of the vehicle fled the scene on foot prior to officers arriving.
PG&E responded to the scene to deactivate the powerlines until the damage is repaired.
As of Friday afternoon, police were still searching for the driver of the vehicle. Police said the suspect was driving a red Ford C-Max.