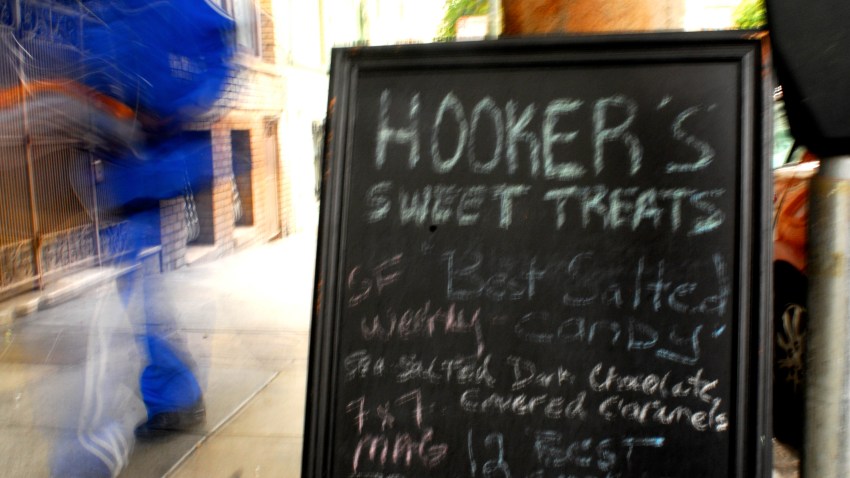 It's perfectly reasonable that some people might assume David Williams named his Tenderloin café, "Hooker's Sweet Treats," as homage to the working girls who populate the nearby corners. But Williams swears the name has nothing to do with the neighborhood's reputation for unsavory activities. It's his name.

"I wasn't out to poke fun at anyone," he said.

The story of the café's name goes back 15 years, when Williams and a group of pals would meet up for a weekly billiard night in the Castro. The group bore more than a few people named David.

"With so many Davids on the board we had to think of nicknames for everyone," said Williams gazing out from behind the counter. Since he had a habit of calling everyone else hooker, he was stuck with the nickname.

Whatever its origin, the gold letters embossed on his front window still draw snickers from customers who frequent his Tenderloin café, which just marked its first full year in business. Nearby Hyde Street may bristle with an urban din of drug peddlers and hookers of the genuine sort, but the interior of Williams' place feels more like it was snatched from the old west.

Walls are covered with Victorian wallpaper, moody dark blue shelves hold photos of old-timey portraits, and a long wooden community table runs the length of the room. Music from William's native Louisiana imbrues the room with a downhome vibe. In place of bagels and donuts, the menu lists bread pudding, sweet cheddar biscuits and cookies -- all baked on site.

Williams opened the business to sell his trademark salted caramels. The Hyde Street storefront had housed more than a few failing businesses over the years – but Williams saw its potential. "There was nothing nice about it," he said, standing over a tray of caramels in the café's now-whimsical kitchen. "I embraced the darkness."

Though he declares himself a huge fan of the Tenderloin (he now lives next door to his shop), Williams hasn't embraced the darkness of the street's open air crime. He mad-dogs drug peddlers who market their wares across the way. He encourages doers of no good to move on. A confrontation with a woman smoking crack in front of his business earned him a smack with a purse.

In between customers, Williams stands in his doorway like a sentry, keeping close tabs on the outside goings-on. "He's a dealer right there," he said, eyeing a teenager beneath a sideways Giants cap strolling past the door. "He hasn't been informed yet – don't do that crap in front of my place."

Williams is frustrated by the drug sellers and doesn't think police are doing enough to stop them. He can't understand how people can turn a blind eye. "If more people took pride in where they live and chased them from their stoops," he explained, "that's the only way this neighborhood is going to change."

Williams is part of the changing Tenderloin, where cutting-edge restaurants, bars and cafes have made inroads on streets once considered too seedy for most to brave. He thinks of himself as an urban-pioneer -- a guy who sees the sunny side through misfortune.

Back in 2008, Williams was working as a graphic designer when the economy tanked and he got laid off from his tech job at Red Envelope. In his bountiful free time, he experimented with salted caramels, developing recipes that eschewed refined sugar and corn syrup. Soon he was selling his candies to friends and businesses under the name Hooker's. It was his search for a space with a kitchen that lead him to the Tenderloin. He swears he didn't even know Hyde Street had hookers until after he opened. Now the neighborhood's prostitutes occasionally wander in for a shot of espresso. "They kind of giggle about the name," he said.

Business in the café, which sells gourmet Sight Glass coffee, is growing. He started selling his caramels in Sight Glass, as well as Bi-Rite market

In late July, Hooker's Sweet Treats crossed the threshold of a year in business. Williams celebrated the occasion with a party -- cramming his small café with friends and his new tribe of devoted customers.

As he labored over a tray of freshly made caramels, Williams reflected on the significance of the recent party and anniversary. "A year of surviving in any sort of business in this economy is an accomplishment," he said.