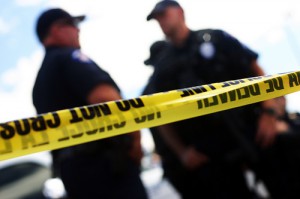 Students at an Oakland elementary school that has been on lockdown for several hours because of a nearby police standoff are being allowed to go home.
Horace Mann Elementary School at 5222 Ygnacio Ave. has been on lockdown since about 10:15 a.m., Oakland Unified School District spokesman Troy Flint said. Shortly before 2 p.m., the school began allowing parents to pick up their children one by one, he said.
The lockdown was prompted by a search for suspects in a series of robberies that occurred this morning, police said.
Police learned around 7 a.m. that there had been a number of armed home invasion and other robberies in East Oakland, police spokesman Officer Cynthia Perkins said.
As officers were investigating the crimes, they spotted a car that had been used in one of the incidents and traced it to a home in the 5000 block of Melrose Avenue, near 49th Avenue.
They saw one suspect exiting the home and arrested him, then determined there were other suspects inside, police said.
Three other suspects were then arrested without incident, but police said there is one suspect still inside the home.
Officers have surrounded the home and the remaining suspect was still refusing to come out early this afternoon.
Flint said parents of students at Horace Mann were notified of the exit plan this afternoon. Some had already arrived at the school.
"Many parents live in the neighborhood and just showed up because there is a tremendous amount of police activity," Flint said.
School was scheduled to let out at 2:45 p.m. today, he said.

Copyright BAYCN - Bay City News