San Francisco illustrator Jayde Fish always had an eye for fashion. It started with her mother — a professional singer who collected vintage outfits and clothing for performances.
"As she traveled doing her shows," Fish said in the North Beach home she shares with her artist husband Jeremy Fish, "there'd be costume closets back stage and as a kid I'd just go nuts back there."
In San Francisco, Fish would walk the streets clicking pictures of outfits that caught her fancy.
This year, her love of clothing, some original art and an Instagram account landed her a connection to one of the world's most prestigious fashion houses — Gucci.
This strange big of kismet began when Fish, who works as a professional illustrator, began drawing large versions of occult tarot cards for fun and posted each one to Instagram. With each post she'd hashtag Alessandro Michele, Gucci's celebrated new creative director.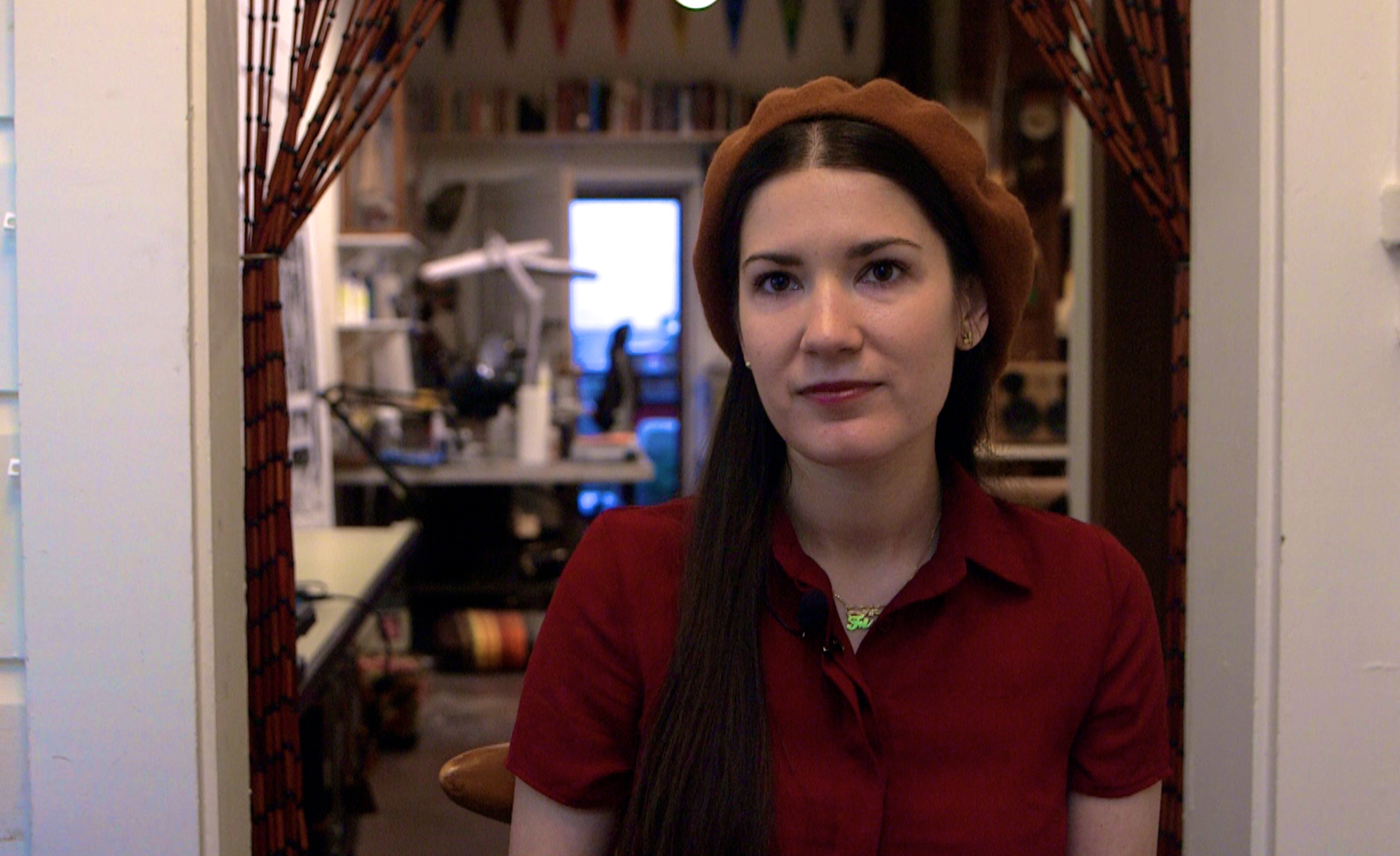 Not long after, came an email from none other than Michele himself.
"He happened to see them and contacted me and wondered what my purpose was for them," Fish recalled. "He was curious if I'd be open to Gucci acquiring them and I didn't know what for exactly."
After Gucci purchased her drawings, the mystery of its intent deepened this past September when the Italian fashion house invited the Fishes to Milan, Italy to attend its Spring 2017 women's collection fashion show. Fish still didn't know what Gucci had done with her drawings — densely ornate scenes of royalty and animals.
This past September inside a dramatically dark red, smoky auditorium in Milan, lanky models began to prance down the runway. Fish sat in the front row — her husband Jeremy in the row behind her.
Suddenly, she spotted a familiar image on one of the outfits. It was one of her drawings. A sequined owl adorned one outfit. A bejeweled monkey one another. Another dress was decked out entirely in Fish's swan illustration. There were patches and embroidery. Her drawings had come to life in vibrantly lit sequins.
"So I was just in awe," Fish said. "I couldn't even speak."
"I was excited, nervous and mostly making sure she didn't explode," added her husband Jeremy Fish.
Afterward, Jayde posed on the runway as her husband snapped her picture. Then she took a selfy with Michele — their faces smashed together like old pals.
Throughout her life, Fish had embraced the winds of inspiration. She'd studied biology in college. Even tried her hand at taxidermy(she stuffed a single mouse). But something about this rapid-fire trajectory gave credence to her hand as an artist.
"Makes me feel good about what I'm doing," she said, "I feel like I'm doing the right thing."
As for her husband, a lifelong artist who served as San Francisco's first artist-in-residence and whose drawings grace t-shirts, mugs and building storefronts — his wife's rapid ascent has been a happy surprise.
"It was very enlightening for me as an illustrator coming from this very similar career path," Jeremy said, "you could get an opportunity this amazing just literally by using a hashtag of a dude's name? it seems impossible. But it happened."
Jayde said Gucci will now determine which items from its fashion show will go from the runway to the streets — meaning she's not sure if her designs will actually make the clothing line. But in the meantime, she's been written up in fashion magazines Elle and Vogue, the latter scribing "Gucci's Spring 2017 muse is an illustrator with great style."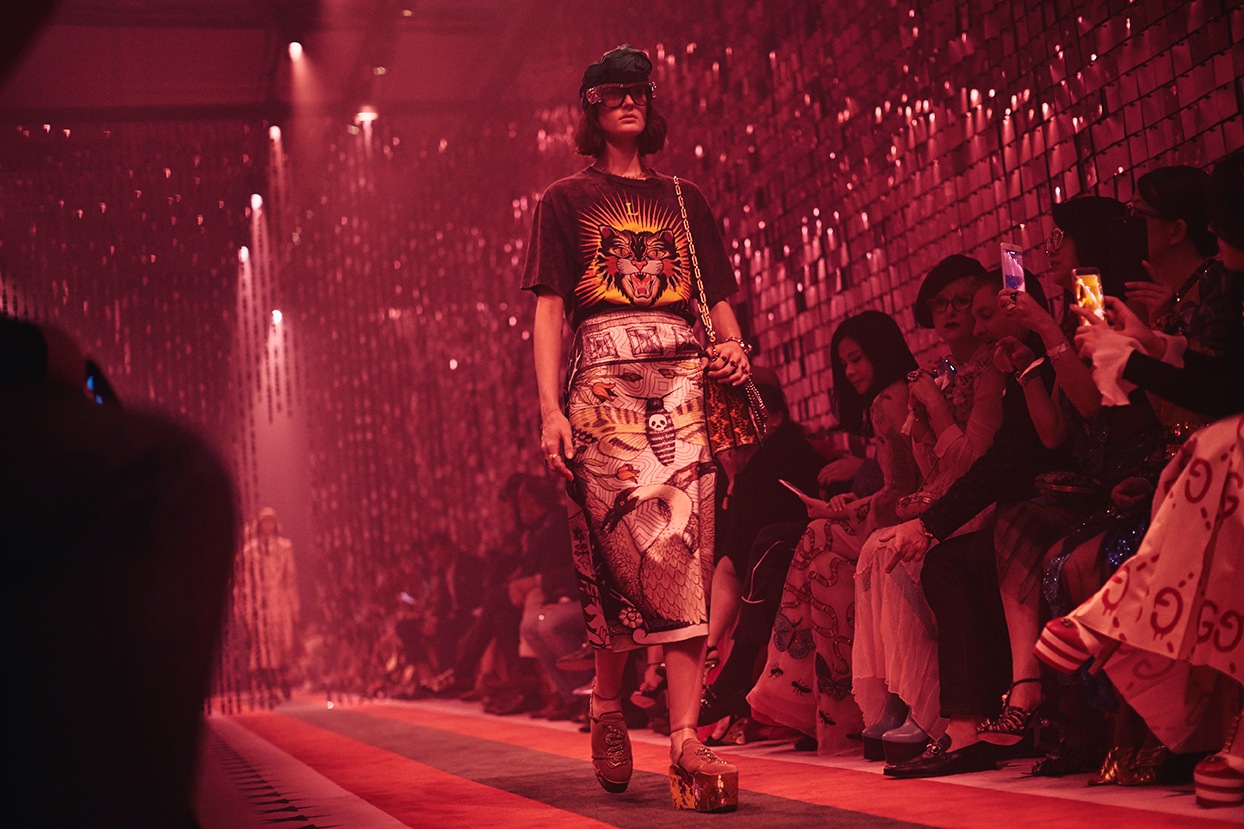 Fish cracks a wry smile at the mention, shrugging at the attention. For now she's keenly focused on her first solo art show, which opens December 9th at Upper Playground's Fifty24SF Gallery in San Francisco's lower Haight neighborhood.
The show will feature large versions of her tarot drawings which caught the eye of Gucci.
"Mostly I just feel incredibly fortunate," Fish said, "like some kind of magical thing has happened to me.