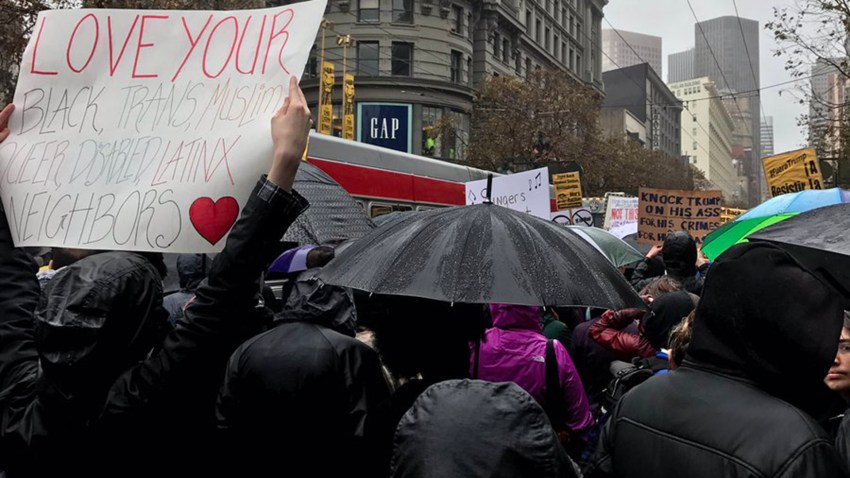 Umbrellas and signs bobbed along wet and windy San Francisco streets on Saturday as hundreds protested President-elect Donald Trump and stood up "for a better future."
The demonstration began at the UN Civic Center just after 1 p.m. and the group then marched down Market Street, according to the San Francisco Municipal Transportation Agency's Twitter page.
The so-called #DumpTrump rally was organized by Answer Bay Area, Facebook shows.
"It is of the utmost urgency that all progressive people take to the streets in defense of immigrants, Muslims, women and all people of color," organizers wrote. "We take to the streets to advance an alternative vision."
Video from the scene showed people toting signs that said, "Act now for our rights" and "White silence is white consent." Walking toward First Street, the group chanted several slogans, including "Move Trump, get out the way. Get out the way, Trump, get out the way" and "When Trump says, 'Get back,' we say, 'Fight back.'"
A woman urged participants to keep the march "safe and peaceful," but stressed that the "movement has to grow across this country to be effective and defend our rights."
"Join us," she told onlookers, many of whom paused to memorialize the protest in photos and videos.
"Walk with us for a while," the woman encouraged. "Instead of taking a picture – which we welcome – come take a selfie in the march. Show you join us."
Headed to the Ferry Plaza, the protesters, some of whom called out Trump for being "racist, sexist, anti-gay," and then meandered down Mission Street approaching 5th Street.
"Say it loud, say it clear, 'Racists are not welcome here,'" protesters shouted.
Some Muni lines were delayed by the demonstration, SFMTA officials tweeted.
Similar marches drew thousands of irate participants in the East and South bays after Trump defeated Hillary Clinton on Nov. 8. Social media posts showed on Saturday that anti-Trump protests also sprung up in Fremont as well as in Toronto, Canada and Paris, France.
Meanwhile, Mayor Ed Lee penned an open letter in the San Francisco Examiner, reiterating a vow about the city retaining its sanctuary city status. Leaders will also continue to make strides in issues of healthcare, marriage equality, human rights, and more.
Lee acknowledged people's anxiety, but expressed hope that "after so many months of ugliness that our country will find a way to come together and move forward."
As was said on the heels of Trump's White House win, Lee promised residents that "San Francisco will always be San Francisco."
He continued: "We will continue to fight for what we believe is right, we will continue to lead on the tough issues that many shy away from, and we will continue to be a city that values every single one of its residents. Nothing will ever change this."