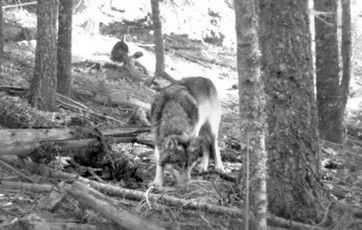 A gray wolf that researchers have been tracking for months crossed into California from Oregon in the past week.
Now an Oregon hunter thinks he captured a photograph of the creature while it was still north of the state line.
A man named Allen Daniels snapped the photo in mid-November, but just recently realized what he had. He won't say exactly where he took it other than he was on public land south of Willow Lake.
An Oregon Fish and Game official told the Oregon Mail Tribune that the wolf was in that area on that date. Experts say they think they see the GPS tracking device on the animal in the photo.
The black-and-white image could be the first known photograph of OR-7, the wandering gray wolf whose 700-plus-mile journey from northeastern Oregon to Northern California has captured imaginations on five continents.
Gray wolves are controversial because they can kill livestock and pose a danger to humans. They are protected under the Endangered Species Act. The federal government has been trying to re-introduce gray wolves to the west for about 20 years.
Copyright AP - Associated Press