More than 8,000 people in San Francisco have been evicted from their homes over the past four years, but hundreds of those residents may have been wrongfully evicted, according to an analysis by the NBC Bay Area Investigative Unit.
Landlords can legally evict their tenants for one of 16 reasons, including failure to pay rent and housing too many roommates. One of the fastest growing evictions, however, allows landlords to kick out their tenants if they, or, in some cases, their relatives, want to move into the home.
Owner move-in evictions have spiked more than 200 percent in just the past five years. The Investigative Unit spent six months interviewing over 100 people all across the city to determine whether landlords or their family members are actually living in the homes they claimed to move into. The investigation revealed what appears to be widespread abuse that is now shocking residents, lawmakers, and even those who investigate wrongful evictions.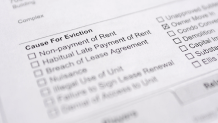 Limited enforcement
"It actually does surprise me that it's that high – one in four is a lot," said Robert Collins, Executive Director of the San Francisco Rent Board, the agency in charge of investigating fraudulent evictions. "Maybe your report here will inspire a variety of other people to see the remedies that are available there. "
While there are some enforcement provisions included in San Francisco housing laws, the Investigative Unit discovered they are rarely, if ever, used. Each year, the rent board submits a random sampling of 10 percent of all owner move-in eviction notices to the San Francisco District Attorney's Office for possible investigation. In nearly 10 years, however, not a single landlord has ever been prosecuted for a fraudulent owner move-in eviction. The district attorney's office said it's extremely difficult to prove a landlord intended to commit fraud when evicting a tenant.
While the rent board can look into potentially fraudulent owner move-in evictions, those investigations are only triggered once a former tenant submits a complaint. Collins said the agency isn't designed or equipped to confirm whether every eviction filed in the city is actually legitimate.
"There's no way of knowing that for the rent board – that's not one of the tasks we have," Collins said. "I suppose for the individual person who was evicted, there would be other ways of finding out, perhaps. But it would be up to them, it wouldn't be something the rent board does."
With San Francisco rental prices among the highest in the country, there is a serious financial incentive for landlords to evict long-time tenants under rent control in order to find brand-new tenants who are willing to pay more. Some believe the lack of enforcement makes exploiting the system too easy.
While landlords can face hefty civil penalties in court for cheating the system, it's difficult to catch landlords in the act. In most cases, city officials concede the only way a landlord can get caught is if an evicted tenant does their own detective work. Many tenants say they just don't have the time or energy to do that after they've been evicted.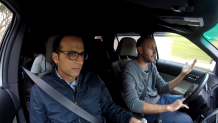 Widespread abuse
The Investigative Unit obtained every owner move-in eviction notice filed with the San Francisco Bent Board in 2014, more than 300 in all, and set out to see how many landlords or their family members are actually living in those units.
After six months, 271 door-knocks, and dozens of phone calls, the Investigative Unit was able to survey residents about their living situation at about 100 addresses where an owner move-in eviction took place. In 24 cases, nearly one in every four, the landlord or family member who was supposed to be living there was not. Instead, there were often new tenants living there, paying significantly more rent than the previous tenants.
If applied to the nearly 1,500 owner move-in evictions in San Francisco since 2013, those findings would mean hundreds of people over that time period were possibly kicked out of their homes illegally by landlords claiming they were going to move in.
At one address, three new tenants were living in a unit where the landlord's mother was supposed to be living, according to the eviction notice filed with the city. A recent online ad for the property listed the retinal price at $5,000 per month, nearly three times the price Angelique Rochelle was paying for the unit before she was evicted.
"My whole life was there," said Rochelle, who was evicted from her large three-bedroom San Francisco apartment in 2014. She lived there for 10 years under rent control, and was paying $1,805.88 per month, a bargain in today's rental market.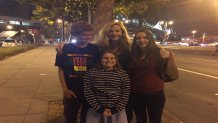 The single mom, who has since moved to a much smaller apartment in Oakland, now commutes an hour or more each way to work. She said she couldn't afford to find a comparable apartment in San Francisco, so she now shares her Oakland home with her 11-year-old daughter. Rochelle's two older children, 16 and 18, used to live with her in San Francisco, but when they were evicted, they opted to stay with their father so they could stay in the same school.
"My kids are living in a different place," Rochelle said. "For my daughter, I think it's the worst because she's eleven years old. I mean she grew up with [her siblings] since she was a baby and they no longer live together."
The landlord informed her that she was being evicted so that his mother could move into the apartment, however, Rochelle said she was skeptical. She wasn't surprised when the Investigative Unit informed her the landlord's mother wasn't actually living in her old apartment. She believes San Francisco should require landlords to provide documentation that proves they moved into the unit following an eviction.
"If that's what they're able to evict people on, if that's the sole reason they're able to have families split apart, then definitely [landlords] need to show what they're doing."
Rochelle's landlord declined to be interviewed for this story. The landlord's attorney did not respond to the Investigative Unit's request for comment.
Wrongful evictions can mean big paydays for tenants
Collins said tenants can sue their landlord if they believe they were fraudulently evicted. The damages can total millions of dollars for a single case, according to private attorneys.
"The remedies are significant enough that a landlord is taking a really big chance that they're going to be sued," Collins said.
If caught, the evicted tenants aren't the only ones who can cash in. New tenants who have moved into the evicted unit are eligible to lock in the previous tenant's old rent for a period of up to three years. If the eviction took place in 2015 or later, the period stretches to five years, as the result of recent legislation. All it takes is a phone call to the rent board for the tenant to determine if those rules apply to their apartment.
"If you are a tenant that's recently rented a unit and you have anything that looks odd, you can certainly give us a call and check whether someone was evicted from that unit," Collins said. "You might end up having much better rent that you thought you would've ever had."
Here's how to save thousands on your rent
The Investigative Unit mapped out every owner move-in eviction in San Francisco for the past three years. You can use the interactive map below to find evictions in your neighborhood. While many of these evictions are legal, if your address is listed and you are not a landlord or a relative of the property owner, someone may have been wrongfully evicted from that unit, which might entitle you to lock in the previous tenant's cheaper rent.
If your address is listed, let us know about it by emailing us here. You should also submit an official request to the city to have your rent reduced.
Losing friends and neighbors
Supervisor Jane Kim is concerned landlords are abusing the system. In fact, she's been forced out of two homes because of an owner move-in evictions herself, although she said those were completely legitimate.
Since 2014, she's introduced two separate amendments to strengthen the existing owner move-in eviction laws, including a five-year freeze on the rent a landlord can charge for a unit if they perform an owner move-in eviction. The change was designed to remove incentives for landlords to use an owner move-in eviction to force out rent-controlled tenants and re-rent the apartment to new tenants at market rates.
But it still requires the landlord to get caught, and with no enforcement agency, that can be difficult.
"Like many laws on the books, we are a complaint-driven system," Kim said. "So we depend on tenants coming forward and letting us know that they were illegitimately evicted through an [owner move-in eviction]."
Kim said nearly everyone in San Francisco has either been evicted themselves, or knows someone who has. She is concerned illegitimate evictions are forcing vulnerable people out of their homes and community.
"We are losing our friends, our neighbors," Kim said. "We're also losing many of our neighborhood retail small businesses, our auto repair shops. We're here at a time in San Francisco where everyone is incredibly anxious about who's going to live here."
Kim said she and her staff plan to look into the possibility of boosting resources at the Rent Board in hopes of more effectively enforcing the city's current evictions laws.
"I think it's very serious if we're finding that at least 25 percent of [owner move-in] evictions are used illegitimately and for simply the sake of making more buck on your unit," Kim said. "That's the type of behavior we're trying to discourage."
Also contributing to this story: Robert Campos, Brendan Weber, Isabelle Tham, Ysa Gomez-Gonzalez, Michael Horn, and Ashlyn Lipori-Russi.
______________________________________
Need to contact our Investigative Unit?
• You can remain anonymous
• 1-888-996-TIPS
______________________________________
Watch the entire series in this NBC Bay Area investigation:
• Part 1: SF Landlords May Have Wrongfully Evicted Hundreds of Tenants
• Part 2: SF Fails to Prosecute Landlords for Certain Wrongful Evictions
• Part 3: San Francisco Considers New Eviction Laws Following I-Unit Series
• Part 4: NBC Bay Area Investigation Leads to Government Hearing
• Part 5: SF Eviction Crackdown Passes After Investigative Unit Series
• Part 6: SF Mayor To Sign Law After NBC Bay Area Investigation
• Part 7: SF Mayor Inks New Law to Combat Wrongful Evictions
• Part 8: Lake of Oversight Puts Oakland Tenants at Risk of Eviction
• Part 9: Oakland Voters May Get Say on When Landlords Can Evict Renters
• Part 10: Expansion of Eviction Protections Heads to Ballot in Oakland
• Part 11: Oakland Couple Uses Hidden Camera to Fight Eviction
• Part 12: Landlords Frequently Ignore Oakland Eviction Laws
• Part 13: Oakland Housing Director Defends Department
• Part 14: Oakland Housing Chief "Fired," Says Source