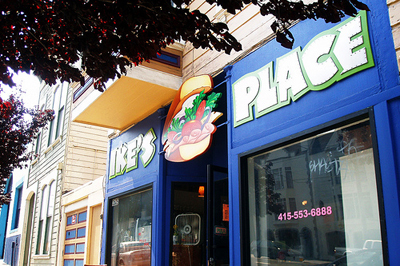 The owner of a popular San Francisco sandwich shop that neighbors want gone, says he will move without fight if he can just have a little more time.

Some Castro residents have gone on the offensive against Ike's Place for drawing hoards of hungry eaters, who they say terrorize the neighborhood with their noise and trash. The neighbor's complaints, and the threat of a lawsuit, led Ike's landlord to evict the little sandwich shop that could.

With court dates looming and tensions building, shop owner Ike Shehadeh tells the San Francisco Chronicle that he has no problem being a good neighbor and closing up shop. But he needs more time, possibly six to eight months, to generate enough capital to move.

Shehadeh has already taken measures to reduce the impact on his neighbors. Earlier this year he agreed to close his shop earlier to ease congestion on the neighborhood, he started asking employees to remind the crowds to keep their voices down and he has increased trash pick up.

But even Shehadeh admits the store has outgrown the neighborhood and he has been planning for the future. He is opening new stores in Palo Alto and Redwood Shores and he is willing to sell his current San Francisco lease that runs through 2018.

But he may not get the chance if neighbors have their way and have him evicted. And working out a compromise doesn't seem to be in the the secret sauce.

Attorney Julian Lastowski represents the residents who live above the sandwich shop and she tells the Chronicle her clients are the victims who have been terrorized by Ike's.

"Maybe, like in the old Westerns, this town isn't big enough for both of us," she said.

Those don't sound like the words of a lawyer hired to mitigate a tense situation.