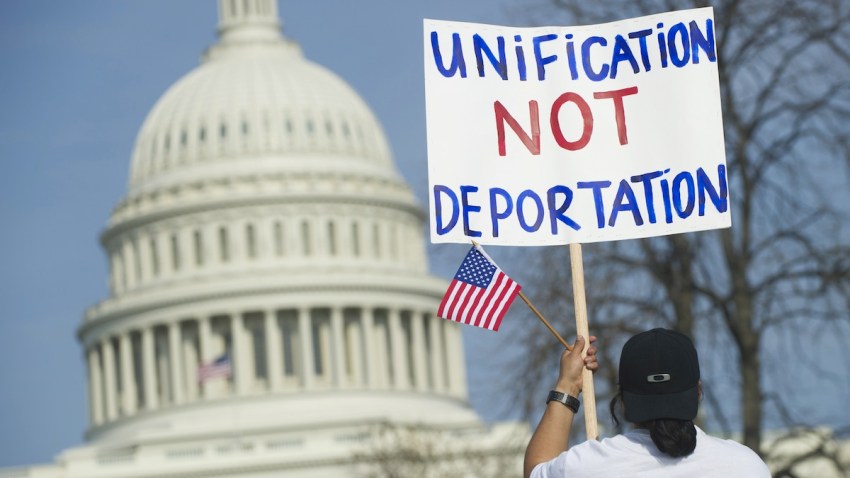 About 100 people attended a rally in San Jose Wednesday morning with a symbolic Thanksgiving Day feast to call attention to families being separated by deportations and the need to reform current U.S. immigration laws.
The rally, organized by the immigrant advocacy group SIREN -- Services, Immigrant Rights and Education Network -- took place on a lawn outside the San Jose office of the Department of Homeland Security along busy Monterey Highway.
A long table was set, with a turkey and Thanksgiving holiday decorations, with small signs in front of chairs such as "Mother," "Daughter" and "Father (Deported)," to illustrate how some families with members who are undocumented would be celebrating Thanksgiving on Thursday.
U.S. Rep. Zoe Lofgren, D-San Jose, who had a place named for her at the table, spoke at the rally along with leaders of Catholic churches in East San Jose and people who described how their lives were affected when family members were deported.
Lofgren, a booster of immigration reform and leading Democrat on the House Judiciary Committee's subcommittee on Immigration and Border Security, urged House Republicans to review a draft bipartisan immigration reform bill and pass it as the Senate did last summer.
"We've made it clear, we will sit down with Republicans and go item by item, bill by bill, so that we can reach consensus to fix our broken immigration system," Lofgren said. "We can do any of these things. What we can't do is nothing."
Lofgren said she hoped that the ruling Republican majority in the House would send a reform bill to the floor for a vote so that next year, the 11 million people who are undocumented in the United States "will be able to celebrate Thanksgiving without fear of deportation."
Father Jon Pedigo of the Our Lady of Guadalupe Church in San Jose, said that about 1,100 to 1,200 undocumented people are deported each day in the United States.
Pedigo invited several people to describe how deportations have affected their families.
Socorro Cruz, 40, a naturalized U.S. citizen who arrived from Mexico with her undocumented parents who later became citizens, said that her first husband was deported 13 years ago when there son was 7 years old.
"That changed our lives completely," Cruz said. "It was very difficult to explain to my son that his father could no longer live here with us...It is very difficult to see a child growing up in a deep sadness. When he was 12, he became very depressed."
Her former husband remained in Mexico and remarried, and Cruz has remarried as well in San Jose, but now her current husband, Ismael, 39, is facing deportation proceedings in April, Cruz said.
If U.S. Immigration and Naturalization officials decided he must be sent back to Mexico, the application process to return as a U.S. citizen would take 10 years, Cruz said.
"I keep thinking that this could be our last Thanksgiving together," Cruz said. "This is a reality that needs to stop."
Among the participants at the rally were hospitality, restaurant, grocery and agricultural immigrant workers, according to SIREN spokeswoman Victoria Ramirez.
Some had fasted since Tuesday in solidarity with immigration reform supporters in Washington, D.C. who have fasted since Nov. 12 to move Congress to pass immigration reform, according to Ramirez.
Copyright BAYCN - Bay City News