Rami Malek has somehow captured what he called "spontaneous beauty" that is Queen's frontman Freddie Mercury, and he brought the iconic rock star's spirit to life again Friday night in San Francisco at a special screening of "Bohemian Rhapsody."
What better place to screen the upcoming biopic of Mercury than at The Castro Theater in the Castro District, one of the most iconic and historically significant LGBTQ neighborhoods in the United States.
"The iconic look that Freddie has, this is where it's from. It's very important for us to be here, to play in front of the audience here. It means a lot to us, how people respond to the film here," said actor Gwilym Lee who portrays Queen's lead guitarist Brian May.
The evening kicked off with a performance from The Killer Queens, the only all-female Queen tribute band in the world based right in San Francisco.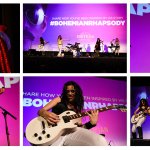 Vocalist Nina Noir has her own broken microphone stand to emulate the iconic Mercury look, and she has the voice to match.
The band went through the greatest Queen hits, Noir at one point adorned a red crown on her head and a bright red cape as she performed "We Are The Champions", ending with "Under Pressure" also as a tribute to late David Bowie.
Following the performance, the audience got to meet Malek, Lee and Joe Mazzello who portrays Queen bassist John Deacon.
Speaking on his process in becoming Mercury, Malek said that when he found out he was going to be a part of the film, there was no time to question it too much.
"I realize that Freddie was just spontaneous beauty. There was nothing rehearsed about the guy. He got up there and he made a show in the moment, that every night hoped to be the greatest show of his life," he said.
The film follows Mercury's journey from when he worked at London's Heathrow Airport, to when he joined what used to be May and drummer Roger Taylor's band Smile in 1970, to his solo career and to Queen's unforgettable Live Aid performance in 1985.
Mercury was a private person and fans didn't get to see much of what he's like behind closed doors. The film offers that small window into the relationships he had with his family (who were refugees from what was Sultanate of Zanzibar and now Tanzania), with the "love of his life" Mary Austin, and his partner, Jim Hutton, who took care of him until he died in 1991 from complications resulting from AIDS.
Malek says people often asked what the greatest piece of advice the remaining members of Queen gave him for the role and he said something that entirely summed up why Mercury is loved deeply by people all over the world:
"It's not necessarily anything they told me about Freddie, it's about how they talk about him. You just see it in their eyes. You see something in their demeanor entirely changes."
"There is something that is so uniquely special to this man that he could give you what he did on stage and the life he lived at home - be this shy, very vulnerable, this loving person who is very generous behind closed doors and obviously had inner strife and conflict going on, but it enlightened me as to why he was so bold on stage, why he was so captivating. Because there's something just burning inside of him, all these things and in one place he could really share it was out there with hundreds of thousands," Malek continued.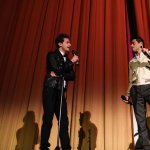 After the screening, Renee Rogoff, who was among Queen fans in the audience, left The Castro Theater speechless and overwhelmed with tears.
"I remember what it was like to grow up in a time when it wasn't OK to be gay, when if it was you who had a disease, no one would touch you. I'm not gay but I spend a lot of my life fighting for gay rights, and the fact that somebody can live that way and be that amazing and touch so many lives and find a way to be accepted and tell his message during a time when nobody like that was allowed to, and for us to honor it now, in the country that we're living in - it's really special," Rogoff reacted.
Others who talked outside theater said that they quickly forgot that Malek wasn't Mercury, that Malek disappeared into one of the greatest performers in history.
And as Mazzello said in closing, Queen's music is for everyone and it's an escape.
"It's if you're having a bad day or something's going on at work or you're sick or whatever it is, you just get to come here in the movie theater and have a little joy for a little while," and the film served its purpose in that sense.
"The Bohemian Rhapsody" officially premieres in theaters on Nov. 2.