What to Know
Google introduced the $150 "Home Hub" speaker with display in October
Just in time for the holidays, Google showed off new features it's adding to the Google Assistant
Some new features are made with kids in mind, but experts say parents still need to exercise good judgment
Just in time for Black Friday, Google threw its latest punch in the fight with Amazon's Alexa, hoping families will run out and fill their shopping carts with Google Home products this holiday season.
The Google Assistant — which doesn't have a proper name like rivals Alexa, Siri and Cortana — already lives on many Android phones, and in devices from smart home companies like Google-owned Nest. At a house in San Francisco's scenic Bernal Heights neighborhood, Google invited a small gathering of reporters to see how the Assistant can also live in every room of the home.
We asked a tech reviewer and a parenting editor for their thoughts on the smart home vision Google's proposing.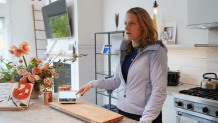 "The way people refer to this dream is 'ambient computing,'" said Dieter Bohn, executive editor of The Verge, quoting long-time tech columnist Walt Mossberg. "It's the idea that you have an assistant you can talk to anywhere, it's always around."
Bohn has written extensively about the battle of the smart assistants, and admits they've exceeded his skeptical expectations, though the dream is still far off.
"Compared to a few years ago, it's shocking how competitive and how capable these things are," he said. "They do way more than I expected them to."
Many of the Google Assistant's newest capabilities are made with kids in mind: Characters from Nickelodeon shows can lend some variety and fun to the dreaded alarm clock, and the Assistant can play music and sound effects along with a growing selection of books as you read aloud to your kids.
"Some of the content that's available is really great," said Christine Elgersma, senior editor of parent education at Common Sense Media.
But in the case of both Google's and Amazon's products, Elgersma said children have become the unwitting beta testers for a very young technology that's still far from perfect.
"I think a lot of parents are running into issues where the speakers actually don't respond to kids," she said. "That, of course, is probably going to improve over time — but we don't know the impact on kids right now."
Elgersma said one concern is that of politeness: smart speakers still respond best to specific commands, and those commands rarely contain the words "please" or "thank you." Bohn said Google's developed a mode that requires kids to use good manners when talking to the Assistant.
Another concern for Elgersma is privacy. Parents need to decide whether to create online accounts for their kids, and might need to consider what data is being stored in those accounts.
"I didn't have data collected on me as a kid, but our kids are having data collected on them that can follow them through their whole lives," she said. "Are there videos of the kids? Are their voices being recorded? The questions they're asking? It's kind of an endless question in my mind: what's being collected, and how will it be used?"
For now, some of the most useful features of the smart assistants are aimed at the parents: The ability to "broadcast" a message through all the speakers in the home, even from the car on the way home with dinner in hand. Now, the Google Assistant allows someone in the house reply to a broadcast message — by text or voice — just by talking into the nearest speaker.
For busy holiday cooks, the Google Assistant can now give step-by-step hands-free cooking directions, similar to the turn-by-turn navigation it offers drivers. The Assistant can already execute "routines" — like turning on the lights, starting the coffee pot and reading the latest headlines in the morning. But for those lazy winter vacation mornings, now it can wait to start your routine until you turn your alarm off — after you've hit the snooze button a few times.
For Alexa's part, it has the vast resources of Amazon available, enabling "voice shopping" as you scurry about the kitchen and find you're out of salt (or trash bags). And Bohn said it's the connection with Amazon's shopping experience that's made Alexa the dominant player for so long: go online to order dog food, and with a click, you can throw a $40 Echo Dot smart speaker in your shopping cart too.
Google's entry level smart speaker is the $50 Home Mini, with the new display-equipped Home Hub coming in at a cool $150. And that's where Bohn said Apple's gotten it wrong: the only smart speaker to feature the Cupertino company's Siri assistant is the $350 Apple HomePod.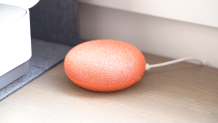 "Apple … needs to decide if it wants to sell an inexpensive speaker," Bohn said. "The thing that made Alexa and the Google Assistant do really well is you could get a speaker for 30-40 bucks."
Of course, Siri also lives on Apple's iPhones, and the Google Assistant inhabits Android devices — but Bohn said don't count Amazon out once you leave home.
"They're also trying really hard to get into your car," he said. "They can't win the phone in your pocket, but they might be able to win your dashboard."