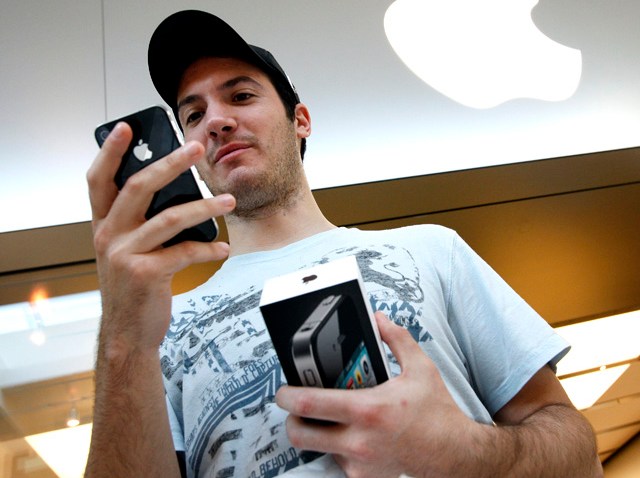 We've seen it before. Hardcore fans waiting overnight for tickets to a concert, movie premiere and, of course, tech gadgets.

This morning, well before the sun came up, we found a group of those tech diehards waiting for the iPhone 4 outside the Apple store in Los Gatos.

Two of the folks we found sacked out in camping chairs told us they had been waiting since 5 p.m. Wednesday for the 7 a.m. sale today. There were two lines outside the store -- one for people who paid ahead of the release date and had an iPhone on hold and one for those who didn't.

Despite the epic online leak showing what was expected to be the newest version of iPhone, worldwide demand was super high on release day. Hundreds lined up outside stores in Tokyo, Berlin, New York and elsewhere to become among the first to own the device.
Already, however, users have reported problems with reception while holding their new iPhones with their hands around the metal band surrounding the gadget. Gizmodo, the tech blog that famously revealed the unauthorized sneak peek at the device, posted videos users have sent showing the signal bars dropping as they hold it.
The iPhone 4's launch began in Japan and moved across France, Germany and the U.K. before going on sale in the U.S. at 7 a.m. in each time zone. Unlike past launches, there were worries about limited supplies after more than 600,000 people rushed to pre-order iPhones on the first day they were available, prompting Apple and its U.S. carrier, AT&T Inc., to stop taking orders for shipment by Thursday's launch. On Apple's website, new orders weren't promised for delivery until July 14.

AT&T stopped taking pre-orders entirely and won't have any iPhone 4s for people who didn't reserve them until June 29. That means people who didn't place an iPhone 4 order had to line up outside Apple stores Thursday in the hopes of snagging one on a first-come, first-served basis.

Apple won't say whether it believes it has enough iPhones on hand to avoid disappointing those would-be buyers.