Bloom Energy has garnered international attention for creating technology that turns fuel into electricity. The Silicon Valley company's energy servers, called Bloom boxes, produce on-site power and aim to operate as a cleaner source of energy than the traditional power grid.
Dozens of blue chip corporations such as Coca Cola, Walmart and Google have installed Bloom boxes at facilities across the country, hoping to lower their carbon footprints and save money on energy costs. But claims by critics, information from public agencies and a data analysis by NBC Bay Area News show that the Bloom boxes may not be performing as well as promised, sparking questions about how green Bloom's technology really is.
Sunnyvale-based Bloom Energy splashed onto the national scene in 2010 when CEO K.R. Sridhar granted a rare interview to the news program 60 Minutes and showed off the Bloom boxes at one of eBay's local campuses.
"I watched the launch on 60 Minutes and it just made me think, wow these guys are claiming a lot," said Lindsay Leveen, a former Genentech scientist.
Leveen is the author of a book on fuel cells and an outspoken critic of Bloom, which he has written about extensively on his blog. Leveen wonders if the public is being "greenwashed," or made to believe that Bloom's technology is more environmentally friendly than it actually is. He says this question is especially important because Bloom's private technology benefits from a lot of public money.
"I like the word boondoggle," Leveen said. "You add an 'l' and 'm' and you have bloomdoggle."
If you are a Pacific Gas & Electric customer, each month a portion of your energy bill goes to the state's Self Generation Incentive Program (SGIP). The program is administered by the California Public Utilities Commission, and it's designed to fund innovation in clean energy. When customers purchase Bloom boxes, which cost about $800,000, they are eligible to receive a rebate from the state.
Since 2007, those rebates for installing the boxes have added up to $230 million. SGIP began 14 years ago, and although Bloom has participated in the program for just seven years, the company has benefited from the lion's share of the funds. According to state data, 23.6 percent of the incentives—nearly a quarter—have benefited Bloom Energy. In addition to state incentives, the company has also benefited from at least $150 million in federal funds in the last two years.
But how green is Bloom's technology? One way to define greenness is to determine how much pollution—in this case, greenhouse gases—a certain technology emits. A greenhouse gas emission factor is a measurement of pounds of carbon dioxide, or CO2, emitted per megawatt hour of electricity generated.
The carbon emission rate of the traditional power grid is somewhere between 959 and 1,083 pounds of carbon dioxide per megawatt hour, according to government regulators. Bloom advertises on its website that Bloom boxes are significantly cleaner, operating with a carbon emission rate of 773.
"That is poppycock," Leveen said. "That is just dreamy. It's not that low a number."
The NBC Bay Area Investigative Unit analyzed performance data provided to the state of Delaware for Bloom boxes that power 22,000 homes in the state. Delaware is home to the largest installation of Bloom fuel cells in the nation, where the technology has been in operation for more than two years.
According to the most recent data available, Bloom boxes have achieved the 773 emission rate just three months out of a 24 month period. The average emission rate is 823.
The company declined numerous requests to discuss their carbon emission rate in an on-camera interview, but in a conference call Bloom representatives said the 773 figure is achieved when the boxes are brand new, noting that CO2 emissions increase as the boxes age.
"If the thing emits more carbon dioxide than they say it does then this is greenwashing," Leveen said.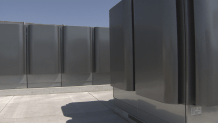 Bloom has nearly 60 customers, many of which are headquartered in Silicon Valley and across the Bay Area. The SAP Center in San Jose was the first sports and entertainment center in the world to install Bloom technology in August 2012. Rich Sotelo, the vice president of building operations at the SAP Center said the company's $4.8 million investment into Bloom boxes will be paid back in power savings over the next five years.
"We think it's a proven technology," Sotelo said.
Bloom also counts Verizon and Kaiser Permanente among its happy customers. The health care corporation installed Bloom boxes two years ago at seven of its locations in Southern California.
"We are in the process of reducing our greenhouse gas emissions and that's important for Kaiser because [green technology] helps reduce the health effects of climate change," said Kathy Gerwig, vice president of environmental stewardship at Kaiser.
Santa Clara County is one of a handful of public agencies that have recently started to operate Bloom boxes. The technology was fully implemented in June at four county buildings, including the main jail complex in San Jose. Dave Snow, the county's deputy director of facilities, said he is pleased with the performance of the Bloom boxes so far. Snow also said the county expects to save $7 million over the next 20 years in energy costs.
But the Investigative Unit discovered inconsistencies in some of the numbers Bloom provided to Santa Clara County. A press release on Bloom's website said that the Bloom boxes would save the county "nearly five million pounds of CO2 each year"—that's the equivalent of taking 500 cars off the road annually. But after NBC Bay Area began asking questions, the county cut the carbon savings in half, using a more conservative method to calculate CO2 savings.
"We as a county stand behind 2.5 million pounds," Snow said. "I couldn't speak for Bloom."
Leveen argues that Bloom Energy has a pattern of overpromising and under-delivering. In fact, regulators at the CPUC, the agency that oversees the SGIP program, wrote in an email that the company's early model Bloom boxes—the ES-5000—"did not perform as well as Bloom anticipated." Information provided by the CPUC shows that those boxes had an emission rate of between 893 and 955, which is much closer to what the traditional power grid already emits.
"I don't think its greenwashing but I do think there's an onus on the company to explain the difference," said Dan Kammen, an energy and climate expert.
Kammen founded the Renewable and Appropriate Energy Lab at the University of California at Berkeley, and his work with the Intergovernmental Panel on Climate Change shared the 2007 Nobel Peace Prize with Al Gore. Kammen said if Bloom is not achieving its advertised emission rate in the real world, the company should explain why.
"If you are receiving public money or private investor money you need to own up to your bottom line," Kammen said. "You do have a responsibility to explain that difference. It's not being irresponsible—it's being an ambassador for an emerging technology."
But what is being done about it? Last year the Federal Trade Commission sent a letter to U.S. Sen. Dianne Feinstein after she asked the agency to investigate Leveen's claims that Bloom Energy is greenwashing the public. The FTC wrote "Greenwashing—that is, making false or unsubstantiated environmental benefit claims—may constitute an unfair or deceptive act." The commission said it cannot comment on the complaint against Bloom Energy.
"Everyone wants to believe that its green and it's great," Leveen said. "And it's probably good technology, but it's just not as good as they claim."
Do you have a tip for The Investigative Unit? You can call the Investigative Unit's tipline at 888-996-TIPS (8477) or send an email to TheUnit@NBCBayArea.com.
You can reach Vicky Nguyen directly via email: vicky@nbcbayarea.com. Follow her on Twitter: @vickydnguyen or on Facebook.