Pairs of bamboo sticks pound the floor to make a beat as dancers hop in between like a game of Double Dutch on a warm summer night in Foster City.
"Beans...rice...beans...and...rice," Mireya Paulos chants to help the dancers stay on rhythm. For the dancers, jumping on beat and in unison is the most important element of their performance. For the pounders handling the bamboo sticks, it's hoping they avoid clubbing any ankles in the process.
The performance is known as tinikling, a traditional Filipino folk dance that imitates the movement of the tikling bird. The bird, also called the buff-banded rail, is known for its ability to skillfully dodge large bamboo traps.
"It's just something super different," dancer Olivia Mendoza says. "Not a lot of people, especially if you're not Filipino, have seen it before."
The dance, particularly a modern version performed by Mendoza and her friends, recently went viral on social media and garnered national headlines.
Mendoza and her cousins grew up watching their aunties and uncles put on dance showcases for all their relatives. Tinikling always took center stage at these events.
So when it was time for Mendoza to celebrate her 18th birthday with a cotillion, it was only fitting to add a tinikling performance to the program. Mendoza did just that, but remixed it with modern choreography from her cousin, Paulos.
Adding a different soundtrack was another revision the group made in the months leading to the cotillion performance. The song of choice? "My Type" by popular Bay Area rapper Saweetie.
Suddenly, a traditional Filipino dance was now mixed in the world of new-school hip-hop.
"The way we can add modern flair to it is kind of an homage to our culture that not a lot of people are used to seeing," Mendoza said.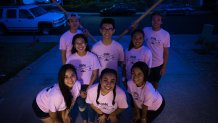 Mendoza and Paulos said no one in the group expected the dance to get much attention outside the cotillion. But then Saweetie shared their tinikling performance on Instagram with the caption "Mahal ko ang kababayan kong Filipino." Which translates to "I love my Filipino people."
The video went viral, placing a spotlight on the dance and culture.
The recognition has inspired Mendoza, her family and friends to continue performing and pushing forward the tradition to a new audience and generation.
"I think it demonstrates that we know what our Filipino culture is," Paulos said. "We recognize it, and we can share the same values as other Filipinos around the area."