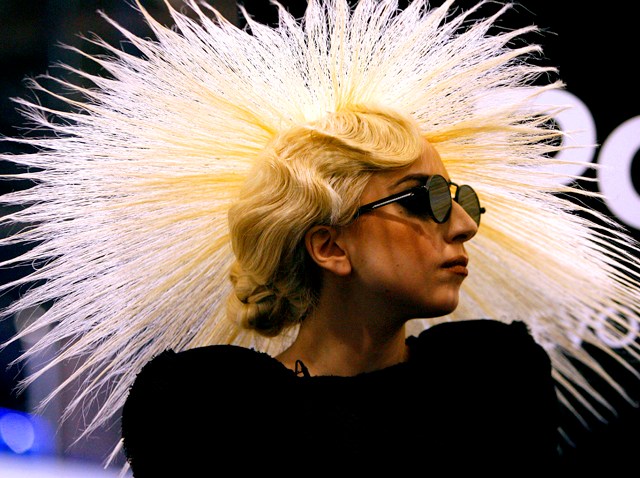 At CES, the giant gadget conference taking place in Las Vegas, musical celebrities are taking over what's normally a geekfest -- where the crowd's definition of "rock star" in past years has been Microsoft cofounder Bill Gates.
For reporters like me, it's not a bad a day at work when the calendar reads "Follow Dr. Dre and Lady Gaga around the show floor."
My personal musical tastes run more towards the former than the latter, but the attention the talented newcomer, known more for her dystopian music videos and outrageous costumes than her technical expertise, is impressive.
If yesterday's CES was all about getting a first glimpse of the gadgets, today is all about the sizzle. Superstars are hitting the CES floor to talk up Polaroid -- Gaga's new gig -- and "Beats," a new set of headphones bestowed upon us music lovers by Dr. Dre himself.
The star power will be a welcome sight for tech-industry watchers looking for signs of a needed spark in the business.

The gadgets are holding up their end of the deal: We've seen cool tablet computers, clearly the next wave of how we download our data and take it with us. Silicon Valley veteran Nvidia boasting its newest chips inside many a tablet, HP out with a Microsoft-powered model, and we're still waiting on Apple. Meanwhile, a company called Flo TV, a subsidiary of wireless giant Qualcomm in San Diego, made a big splash on the show floor with its smartphone-sized device that lets you take a crystal-clear live television signal with you wherever you go.

And, speaking of smartphones, the company that got the most double-takes was likely Pong, an outfit making sleeves for your iPhone and BlackBerries. Not just any sleeves: These claim to lower radiation, while actually improving the cell-phone signal. That's one I can't wait to try out back home.

But today belongs to the superstars. Keep it here, and we'll show you what they do when they hit the city of good ol' Las Vegas.
Scott will keep ya head ringin' with updates on Twitter: @scottbudman