In the struggle to keep Jahi McMath on life support – and even possibly reverse her brain-death ruling – two mothers became friends.
Shortly after the Oakland teen was declared brain dead last December after a tonsil surgery went wrong, Lisa Huse called Jahi's mother, Nailah Winkfield.
Huse's daughter, Jessica, suffered a traumatic brain injury when the then-18-year-old Valley Christian graduate was struck by a car on Blossom Hill Road in San Jose on her way to church.
Doctors told Huse her daughter wouldn't survive.
Huse didn't listen. And she held fundraisers to pay the initial $100,000 to Philip Defina, CEO of the International Brain Research Foundation in Flanders, NJ. [[278541751, C]]
Her daughter, now 23, still is seen by foundation specialists, which her mother pays $50,000 each year for their services. She held the fifth annual "Journey for Jessica" fundraiser last month.
She wanted Jahi's mother, who declined to comment for this story, to know about Defina's foundation.
Defina has come under fire for promising false hopes and charging a lot of money for his unconventional approaches. But his foundation did just secure a $6 million contract from the Department of Defense to help soldiers who suffered traumatic brain injury. He also accepts criticism that he is not a medical doctor - he is proud of his PhD in clinical psychology, and stresses he facilitates the work of experts in brain injuries and research.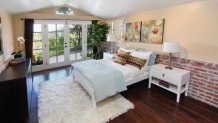 Huse has been impressed with Defina in the last five years, adding that he never promised her any miracles. She hoped to pass this knowledge along to Jahi's family.
[[267468861 ,C]]
"I just wanted them to be able to get all the information they could," Huse said. "I knew they were on borrowed time."
Since then, Huse and Winkfield talk occasionally and text as well. The two met in person, attending a brain foundation fundraiser sometime in the last nine months.
Huse told Winkfield about her daughter's neurotherapy, which includes infrared light stimuli, electrical and magnetic stimulation, biofeedback and brain-computer interface technology. Five years since the accident, Jessica Huse is confined to a wheelchair, and can answer yes or no by using buttons.
Defina is now the quiet coordinator of Jahi's family's latest attempt to convince a judge the teen is not dead, based on expert testimony his foundation has funded. Two witnesses Defina paid for are arguing that Jahi is alive because of a new EEG and MRI taken in September at Rutgers University.
"I get her," Huse said. "She is very bright and like me, we just want to give our daughters every chance available. We are not in denial. We know what we are up against. But I sleep better knowing I didn't leave my daughter to lie there alone somewhere. I'm guessing that is how she feels as well."