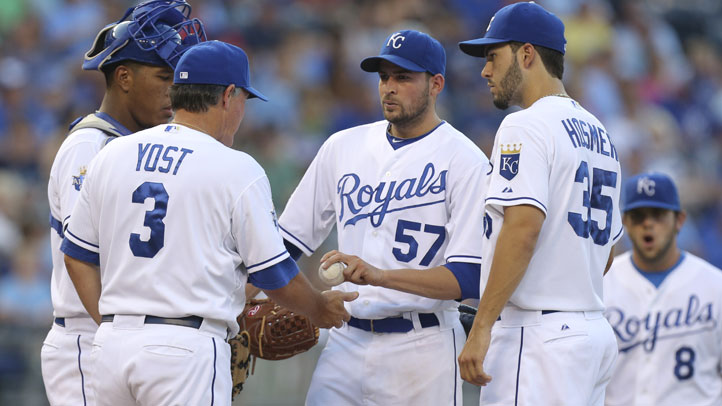 Dragging dead horses out back of the barn and beating them senseless is a somewhat useless exercise, but I'm going to do it anyway with respect to the Jonathan Sanchez-Melky Cabrera trade.
As you know, the Giants flipped Sanchez for Melky during the offseason. Few people (I was one of them!) actually liked the deal. Turns out, it worked well for the Giants and not so well for the Royals.
In fact, it's going so poorly for Kansas City that Sanchez may be out of the Royals rotation after his latest disaster of a start, in which he gave up seven runs in 1 1/3 innings ... to the Mariners.
"We're going to figure out (tonight) first," manager Ned Yost said after the game, via the Kansas City Star. "We've got to figure out who is going to come up and start and go from there. We might need two pitchers. We'll just have to wait and see."
Bob Dutton, the KC Star writer, was a little less ambiguous about the start than Yost, even going so far as to wonder "and sweet Molly, how can it not be" Sanchez' last start. That's because the lefty's ERA now sits at 7.76. If he qualified for the ERA title -- he doesn't -- he'd have the worst ERA in baseball.
And he's as confused as you, Yost, Dutton and every other Royals fan out there.
"Trust me," Sánchez said, "if I knew (what was wrong), it would be fixed already. I'm just not pitching well. My last start was better, but today, I just got hit around. They hit good pitches and scored first."
The Mariners scored first, they scored early and they scored often. They chased Sanchez before the second inning and, well, he might not even get a chance, as Dutton pointed out, to best Chad Durbin's Royals mark for worst ERA with 50 or more innings pitched.
Durbin had a 8.21 ERA over 72 1/3 innings in 2000; Sanchez has his 7.76 in 53 1/3 thus far this year.
The goal here isn't to laugh and point at the Royals and certainly not Sanchez. Lord knows he did enough for the Giants while he was here.
But it does seem wise to look back at the Melky-for-Sanchez trade again and remember that what the Giants pulled off was filthy, dirty heist that could change the way 2012 ends up playing out, if it hasn't altered it enough already.