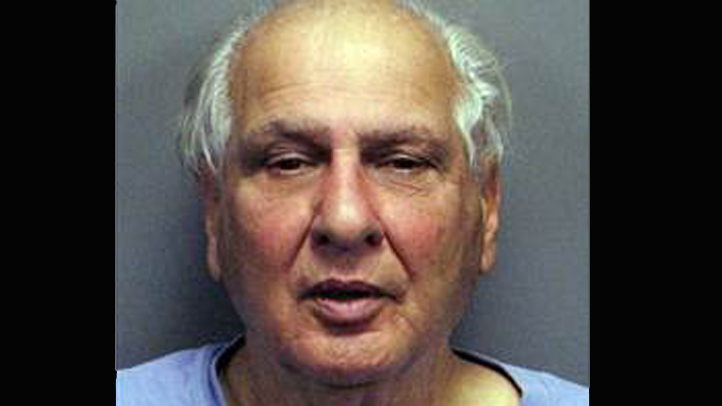 Police in a Northern California town have exhumed the body of a woman found decades ago to see if there's a connection to serial killing suspect Joseph Naso.

Healdsburg Police Chief Kevin Burke told The Associated Press the department exhumed the unidentified woman's body to conduct a new autopsy and collect DNA.

Interest in the old case was sparked after investigators found a list describing 10 women in the Nevada home of Naso, who's charged with murdering four women in the 1970s and 1990s. One of the entries on the list said "Girl near Healdsburg.''

The body was found in Foss Creek in 1983. At the time, it was too decomposed for investigators to work with, but new technology may help yield clues.
Burke says DNA could help them track down family members.
Naso has been in court since last week for his preliminary hearing. He is representing himself.
In testimony Tuesday, details about the murders of two Bay Area women in the late 1970s were revealed.
The body of 18-year-old Roxene Roggasch was found off of Sir Francis Drake Boulevard on the east side of White's Hill near Fairfax on Jan. 11, 1977.
Carmen Colon, 22, was found in August 1978, down an embankment along Carquinez Scenic Drive between Crockett and Port Costa in Contra Costa County.
Marin County sheriff's Detective Ryan Petersen testified that a pair of brown pantyhose was found around Roggasch's neck. Prosecutors allege that the pantyhose belonged to Naso's wife Judy and contain Naso's DNA.
Roggasch was also wearing brown pantyhose when her body was found, Petersen said. Both pairs of pantyhose were sent to a state Department of Justice lab for analysis.
Testimony about the alleged DNA connection to Naso is expected later today or Wednesday.
Petersen testified that Roggasch's former boyfriend and pimp, who now lives in Southern California, said he last saw Roggasch on Jan. 4 or 5, 1977, Petersen said.
Around the time of her death, Petersen said, Roggasch had been soliciting Johns, or clients, near the MacArthur BART station.
Naso and his wife owned property at 1037 Oakland Ave. in Piedmont -- less than 2 miles from the BART station -- from 1966 to 1985, Petersen testified.
During his cross-examination of Petersen, Naso said he had visited San Anselmo, Ross and McClures Beach in Marin County but didn't frequent the area where Roggasch's body was found.
"I had very few visits to Marin," Naso said.
Naso was arrested in El Dorado County last April for the murders.
Petersen testified that during the ride from El Dorado County to Marin County, he asked Naso why he kept photos of naked and nearly naked women in his safe deposit box at a Reno bank.
Naso told him that he placed things that he wanted to keep secret and that he considered part of his "dark side" in the deposit box, Petersen testified.
"He used an analogy of a boss cheating on his wife with his secretary," Petersen said.
Naso claimed in court today that Petersen didn't give him a Miranda warning before he interviewed him in the car. Judge Andrew Sweet said that is an issue that should be raised in the trial, not the preliminary hearing.
The preliminary hearing will allow Sweet to determine whether there is enough evidence for the case to proceed to trial.
Also today, California Highway Patrol Officer Billy Doyle, who is now retired, testified about the day he discovered Colon's body off the side of the road.
It was a summer night, around 8:15 p.m. on Aug. 15, 1978, and Doyle was driving along Carquinez Scenic Drive when he smelled something strange, looked down an embankment on the side of the road, and saw the body, he said.
He said he could see the back of the body, which was unclothed, and that Colon's legs were not visible. Doyle called dispatch and the sheriff's office arrived 10 minutes later, he testified.
The preliminary hearing is continuing this afternoon.
Naso, 78, is charged with the murders of Roggasch, Colon, and two Yuba County women in 1993 and 1994.
All four women worked as prostitutes, and the killings have been referred to as the "double-initial" murders because the victims' first and last names began with the same letter.
Bay City News contributed to this report.
Copyright AP - Associated Press