A California woman is beside herself after two of her animals were apparently poisoned with oleander-laced cookies and suffered painful deaths.
The Sonoma County Sheriff's Office is investigating the intentional poisoning of two horses and a dog that belonged to Leslie Webb, a sheriff's sergeant said. Only one of the animals survived.
"They're my kids," Webb said. "I don't have the human variety. I have four-legged furry kids."
Webb, who lives on Kennedy Road in unincorporated Sonoma County, said her horse Cowboy and playful dog Rosie fell gravely ill earlier this month.
"Rosie couldn't stop vomiting and looked like she was going to die," Webb recalled. "My horse was sweating in patches and his heart rate was super high."
Rosie and Cowboy died within a day of consuming the cookies.
Webb, who reported the incident Feb. 12, said she searched her home's pasture looking for the source of the illnesses and stumbled across what homemade cookies that appeared to have been left for her animals.
"The cookies were full of carrots, apples, oats and there was something in the cookies that looked like a leafy substance," she said.
Based on necropsies, veterinarians believe the animals likely were poisoned with oleander baked into the cookies. Oleander is highly toxic to animals, Sgt. Cecile Focha said.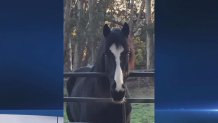 "To deliberately poison them and have them suffer such a traumatic death is just despicable," she said.
The poisonings appear to have been an isolated incident and sheriff's investigators have identified a person of interest, although no information about the person was being released, according to Focha.
Neighbors in the area and Sonoma County Animal Services have been notified about the poisonings, Focha said.
Webb isn't appeased, though.
"They murdered — period," she said of the person who planted the cookies. "Who's to say it doesn't go from animals to humans next?" [[369878281, C]]
Copyright BAYCN - Bay City News