Three Napa wineries may finally get some of their gold-medal winning wine worth tens of thousands of dollars back after James Allen Hall was arrested Friday in Wichita, Kansas. Hall faces charges of fraud and illegally purchasing, selling and distributing alcohol without a license.
HOW DID ALL THAT WINE DISAPPEAR?
Michael Quinn has owned Michael Scott wines since 1996. It's a small winery producing less than 5,000 cases of wine per year. So when Quinn received an order in August for 58 cases of wine from Jayhawk Beverages in Pittsburg, Kansas, he saw an opportunity to enter a new market.
"After a few conversations we decided to do business together," Quinn says. "He sent us a purchase order. We sent out the wine."
According to Quinn, it is standard practice to ship the wine – at the client's expense – and get paid after the wine arrives at the destination.
"A couple weeks went by and he mailed a check finally," which bounced, according to Quinn.
"After a while he just quit communicating altogether. I got a hold of some of the other wineries and they were having… really the same story I was," Quinn says.
THE THEORY
The wine was shipped to a warehouse on 201 E. 5th St., in Pittsburg, Kansas. The building was a school furniture business at one point in time. A neighboring business tells The Investigative Unit the warehouse has been abandoned for the last five or six years.
Quinn believes that if Hall could get the wine for free, he could sell it at twice the cost.
"If he was just selling it to wine shops and restaurants he would be able to double his money. So he could probably sell that wine for $17,000," Quinn says. "And that's just with ours. With the other wineries, it might be closer to $60,000."
The other wineries include Prolific Beverage, which produces a series of Cabernet wines with the "One" label. Owner Jason Hooten, told The Investigative Unit he delivered 28 cases of wine with a market value worth roughly $15,000. Hooten was not available for further comment. A third Napa winery also shipped wine to Hall, but did not wish to be identified.
JIMMY HALL'S PAST
Quinn says he had to file a police report with the Napa Police Department in order for Pittsburg police in Kansas to open a case against Hall. That is when Quinn became aware of Hall's questionable past. It includes an arrest warrant for grand theft of 401K contributions and an alleged fraudulent vacation home business.
The arrest warrant by The State of Florida Office of Financial Regulation shows Hall had three financial firms acting as third party administrators of 401K plans in Florida. The warrant says Hall funneled other people's contributions to himself from 2010 to 2013, totaling $811,593. He was arrested on March 3, 2015 in Pittsburgh, KS on that warrant and booked into Crawford County Jail. Hall posted bond and was released.
NBC Bay Area also obtained records from the Pinellas County Sheriff's Department in Florida. During the span of one year from April 2015 to 2016, five reports were made alleging Hall received rental fees and down payments for vacation rental properties in Madeira Beach, FL. Tourists claim they lost their money and that the properties may not exist.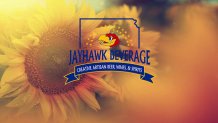 THE RAID
On Friday, The Kansas Alcoholic Beverage Control entered a warehouse in Wichita and arrested Hall. He was booked into Sedgwick County Jail. According to officials, the warehouse contained cases of alcohol and wine valued at approximately $70,000.
Quinn says he warned Hall. "I told him he messed with the wrong person this time. It's the principle of the thing and you know, he can't continue."
THE SOLUTION
For Quinn, there is some relief, but says that not everything makes sense.
"He's gone all his life ripping people off, you know," Quinn says. "Who does that?"
Authorities in Kansas say there is still a chance for Quinn and the other wineries to get back their wine.
Jeannine Koranda is the spokesperson for the Kansas State Department of Revenue, which oversees the department in charge of Alcoholic Beverage Control. The Investigative Unit asked her what will happen to the cases of wine seized as evidence.
In an email to NBC Bay Area, Koranda wrote, "When it is released, the original owners will have the option of it being returned to them or it would be destroyed."
Authorities in Kansas will not provide further information on the case against Hall.