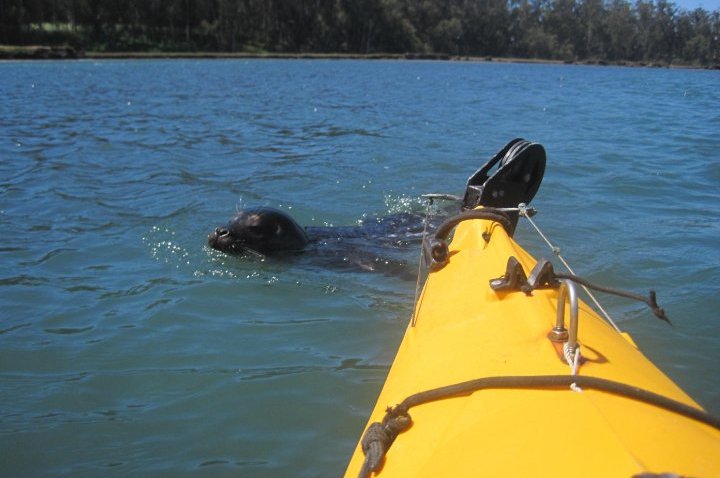 Just a quick drive down Highway 1 past Santa Cruz lies a fun day trip that will leave you with a full photo memory card and a Facebook page loaded with comments from jealous friends. Did you know you can kayak in one of the northern California's most gorgeous habitats without driving all the way to Monterey. Hundreds of plants and animals live in the Elkhorn Slough near Moss Landing. There are more than 340 species of birds alone.
We rented our kayak from a place called Kayak Connection. The staff is friendly, laid back and really knows their stuff. I felt comfortable fast during the quick training session before we paddled off.
However, I'd never been in a kayak before and with one strong, wrong-way current between me and miles and miles of ocean, I was a little nervous. Turns out it really couldn't have been easier. Even with the high tide and strong wind that day, it wasn't too hard to go more than two miles and back, zig zagging our way between little coves.
An adventures always more fun when you meet a dark, mysterious stranger. About a mile in, we met a new friend we just couldn't shake. I saw the little sea lion (or maybe a seal?) slip into the water when we passed dozens of sea lions (er seals?). Before I knew it he was playing with our rudder and swimming back and forth, around and under us. We tried to get our distance, not only because it is their habitat and you should leave the animals alone, but also because the mammals are known for trying to hijack a kayak or two.
There are also tons of adorable sea otters, but keep your distance. The cute little critters are related to hot-tempered badgers. Locals say the otters are not shy about jumping on a kayak and baring their teeth.
We kept our distance when we saw a mom floating with her newborn. Still and amazing sight!
DOIN' IT WELL:
Make sure to bring some water and maybe a little snack. We paid an extra 10 bucks for the whole day rental, but really only needed the basic 4 hours. That's about all the time I could handle surrounded by water without needing to answer nature's call myself. You may want to use the facilities at a restaurant or gas station before you get there. Kayak Connection just has a portable toilet.
Also don't underestimate the sun's ability to burn you in awkward places when reflected off the water. The underside of my arms and chin are still peeling. Lather on the sunscreen!
You may also want to consider doing a tour. Our trip was relaxing, but I'd be able to tell you if our not-so-secret admirer was a seal or sea lion if we'd had a guide. Then again, maybe a little mystery's a good thing.
Marika Krause produces NBC Bay Area Mornings. She works overnights, so she crams more fun and Bay Area adventures into the weekend than most people do in a week. You can catch her weekly blog right here on NBC Bay Area.