Thanks to easing winds, firefighters have doubled the containment of a destructive wildfire burning in Northern California's wine country.
FULL COVERAGE OF WILDFIRES BURNING ACROSS NORTHERN CALIFORNIA
The nearly week-old Kincade Fire was 45% contained Wednesday evening, up from 15% Wednesday morning, according to Cal Fire. The wildfire has scorched 76,825 acres and destroyed 266 structures, including 133 homes, in Sonoma County.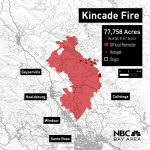 Strong offshore winds returned to the region Tuesday, triggering a red flag warning for the entire North Bay, but those winds eased Wednesday morning, according to the National Weather Service.
While the winds back off, weather officials say fire danger remains high Wednesday. Winds are "still strong enough" and humidity levels remain "very low," the weather service tweeted. As a result, the red flag warning, which was also issued in the Santa Cruz Mountains as well as portions of the East Bay and Peninsula, remains in effect until 4 p.m. Wednesday.
[NATL-BAY]Images From the Destructive Kincade Fire in Sonoma County
Just over 90,000 structures, including about 80,400 homes, are threatened by the Kincade Fire, Cal Fire says.
Favorable climate conditions Wednesday have allowed areas of Sonoma County to lift evacuation orders.
Cal Fire announced at 2:13 p.m. that evacuation orders were lifted in the following areas:
Area of South of Canyon Road to Alexander Valley Road
Area of South Alexander Valley Road, East of Highway 101, and West of Highway 128, including areas within the Healdsburg City Limit
Windsor town limits, including North of Arata Lane
Area East of Hwy 101 and Fulton Road, West of Redwood Hill Road at Mark West Springs Road and Zone 6 Boundary, North of Wood Road and Dennis Lane, South of E. Shiloh Road and the fire line
Areas of North and East of Santa Rosa City limit. East of Sonoma County/Napa County Line and South og the Zone 5B Border
An hour later at 3:30 p.m., Cal Fire and Santa Rosa Fire Deparment lifted evacuation orders for all areas within the Santa Rosa city limits. However, residents were advised to keep in mind that power may still be off due to PG&E outages.
To view a live map showing the evacuation zones, click here or use the interactive map below (click on the "X" in the Legend section to make the map appear). For a list of evacuation centers, click here.
About 5,000 fire personnel on the ground and in the air continue to battle the blaze.
"The eastern part of the fire was active overnight, but firefighters continued to make forward progress, as a whole," Cal Fire said in its Wednesday morning report.
Crews expect to fully contain the blaze Nov. 7.