Firefighters in Northern California's wine country are racing to surround a destructive wildfire that has destroyed dozens of homes as another windstorm blows into the region.
FULL COVERAGE OF WILDFIRES BURNING ACROSS NORTHERN CALIFORNIA
The Kincade Fire in northern Sonoma County has scorched 76,138 acres and destroyed 189 structures, including 86 homes, according to Cal Fire. The blaze, which has been burning since Wednesday night, is 15% contained.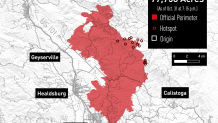 Some 90,000 structures, including more than 80,000 homes, remain threatened by the flames, which could be fanned by increasingly gusty winds on Tuesday.
The return of dry, gusty winds prompted the National Weather Service to issue a red flag warning for the North Bay and Santa Cruz Mountains as well as portions of the East Bay and Peninsula. In the North Bay, the warning will be in effect from 8 a.m. Tuesday until 4 p.m. Wednesday. Wind speeds in the North Bay hills could range from 20 to 35 mph, with gusts peaking between 40 and 65 mph.
"The forecast is on track. What that means is a challenging afternoon and evening of strong, dry offshore winds that will impact the fire area," Ryan Walbrun with the National Weather Service said Tuesday morning. "So we're in this critical really 24-hour window. We're hopeful that the winds will ease off after midnight tonight, but tomorrow the humidities remain incredibly dry for the region."
In the East Bay, Peninsula and Santa Cruz Mountains, the red flag warning will be in effect from 1 p.m. Tuesday until 4 p.m. Wednesday.
"In addition to the weather issues that we're seeing, we also need to remember that we're at the time of year where we haven't seen any moisture in our fuel beds for an extended period of time," Adam Mitchell with Cal Fire said. "The fuels are critically dry. They are receptive to new fire as well as fire spread."
[NATL-BAY]Images From the Destructive Kincade Fire in Sonoma County
As crews battle the blaze, about 156,000 people across Sonoma County remain under mandatory evacuation orders.
2:20 p.m. Tuesday update: Northern part of Dry Creek Valley downgraded to evacuatinon warning, Sonoma County Sheriff says.
To view a live map showing the evacuation zones, click here or use the interactive map below (click on the "X" in the Legend section to make the map appear). For a list of evacuation centers, click here.
Firefighters have been working to reinforce fire lines in western Sonoma County while rushing to shore up the eastern side that could be the new focus as winds switch direction.
"We're playing both offense and defense right now on two different sides of the fire," said Jonathan Cox of the California Department of Forestry and Fire Protection.
Bulldozers carved firebreaks, hand crews attacked hot spots with hoses and shovels, and aircraft painted hillsides with fire retardant.
Evacuation orders were downgraded to warnings for some 30,000 people in the west but new warnings were issued to people in the east, with Calistoga in Napa County and Middletown in Lake County — a community badly damaged by a 2015 wildfire.
More than 4,500 fire personnel on the ground and in the air continue to battle the wind-driven wildfire, according to Cal Fire.
Firefighters could catch a break Wednesday when the winds are expected to die down.
"The good news is after we get through this wind event, things do look favorable for the next five to seven days where we'll get into a more tranquil weather pattern," Walbrun said. "No rain in the forecast, but also no more offshore wind events."
Crews expect to fully contain the blaze Nov. 7.
The Associated Press contributed to this report.
[[564050492, C]]

Copyright A