Like most kids their age, the students at Oakland's Castlemont Primary Academy were happy to believe Santa and his elves have traveled all the way from the north this past Friday to give them some much appreciated presents.
This, however, was Knuckehead Santa, along with his number one elf, Chaz. And they had come from just down the street.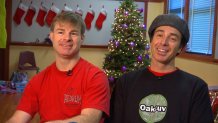 Although it did take them quite a long time to get there.
"29 years," said Alan "Chaz" Smith. "Wow," added Alex "Knucklehead" Cox.
Cox and Smith became friends while playing baseball for Oakland's Bishop O'Dowd High School in the 1980's.
"We were the two, least athletic guys on the team and we sat at the end of the bench," Cox said. The two remained friends throughout the years, both serving as best men at each others' weddings. They are now both successful professional, living in the East Bay with their families.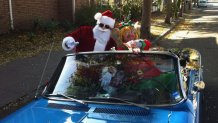 In some ways both had left Oakland in their lives' rear view mirrors, until one Christmas Eve, seven years ago.
"Chaz and Knucklehead were watching a football game on a 75-degree Christmas Eve day," Cox said. On whim, Smith says, they decided to don Santa and elf costumes and drive around in Smith's classic convertible handing out candy canes and toys to kids.
They just had to figure out where.
" Let's go to my house," Cox recalled himself saying. He meant his childhood home, on 38th Avenue in Oakland's Fruitvale Neighborhood.
Cox says he grew up in a troubled home in a rough neighborhood. It was a place of some very, unhappy memories.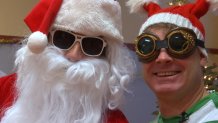 "Living here and growing up here was something I was embarrassed about," Cox said.
But that Christmas Eve seven years ago changed all that. Knucklehead Santa and Chaz The Elf were a big hit on 38th Avenue handing out presents and taking pictures with the children there. It was so much fun for everyone involved that Cox and Smith vowed to return the next year. And the next.
"It was a transformational experience," Smith said, "seeing the joy on the kids' faces and the parents'."
Cox and Smith have returned ever since that first year. Each year the giving gets grander and more generous. They have joined forces with motorcycle clubs and church choirs over the years to help with their give-aways. They even formed a non-profit called OakLuv in order to raise money to buy presents.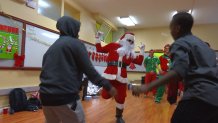 "It turned out being the genesis of a body of work I am so incredibly proud of," said Cox.
This year, Cox and Smith will be attending a variety of holiday events around Oakland, handing out thousands of gifts to needy children, and creating even more smiles.
The biggest smiles, however, are always on Knucklehead and Chaz's faces, both having stumbled across a way to honor, and give back to, their hometown.
"I'm back with joy and happiness and passion and energy and bringing everything I've got to giving back."