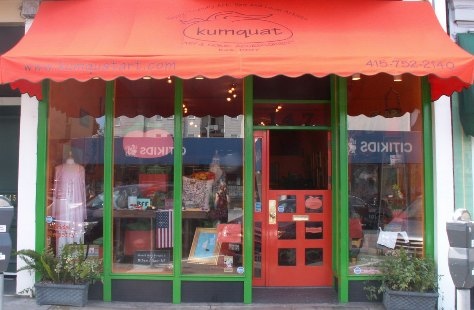 It's an amusing word to say out loud which leads right in to the truism at hand: Kumquat Art, a fun store to shop, with an eclectic collection of tasteful merchandise.
It's on the trend-end of Clement Street between Arguello and Second Avenue in the City. You can't miss the striking orange colored awning, complimented by grass-green window trim along with a welcoming dutch-door.
If that's not enough of a draw, Kumquat Art happens to be right smack next door to Giorgio's Pizza, the one and only location for this family owned parlor that can transform even the blase-est pizza connoisseur.
Okay, back to Kumquat. Once inside the shop, you'll discover one great thing after another.
Kumquat owner, Keverne Tuomey, originally opened the doors 13 years ago. She still prides herself on catering to customers who appreciate supporting local designers, manufacturers and artisans.
If not Bay Area finds, then for sure the vendors have California addresses. The exception to this policy is the splendid assemblage of unique hand-blown ornaments imported from Europe.
The well-known European artisans plume themselves on producing the most beautiful ornaments in the World.
Even though Keverne displays the various themed collectibles on miniature Christmas trees placed around the store, these ornaments are appropriate for year round display. Take the baseball, for instance. It is a stand-out from the mass produced ones found in ordinary souvenir stores. And it can be a constant reminder of our beloved SF dream team.
The Earthopoly game (it's Monopoly transformed) is perfect for teaching children about recycling while having fun at the same time. There's also a Halloween themed "opoly" and a San Francisco-opoly, perfect for the City lover who has everything.
Distinctive art on the wall evolves regularly but always the work of nearby artists who are eager to sell their visions to Kumquat shoppers.
The collection of soft yet sturdy, durable and very attractive tapestry bags are fit for toting, available in an array of tasteful combinations. Also on the top 10 list at
Kumquat Art are the yummy looking fat free/calorie free cupcakes.
How can that be, you ask? It's because they're actually bubble bath plops, just skillfully disguised to make you smile!
Selection includes ones with chocolate frosting and a cherry on top. Oh so adorable for the weight watchers on your gift list.
Visit Kumquat for outstanding finds but not for a kumquat unless, of course, its a tree ornament!
Kumquat Art - 147 Clement Street - San Francisco, CA 94118-2419 415.752.2140 - www.kumquatart.com
Lexie Quiring host personal shopping trips through the City. Visit ShopSFwithLexie for more information.