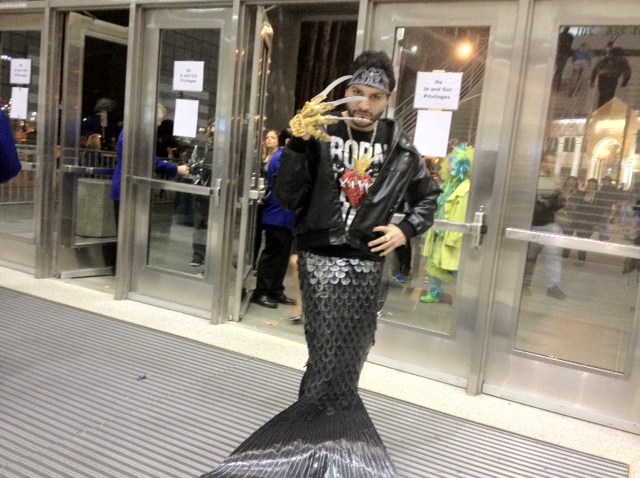 As we predicted earlier this week, Lady Gaga's sartorially splendid fans — or "monsters," as they're affectionately called — provided prime people-watching at her concert at HP Pavilion last night (Jan. 17).
Gaga herself showed off an astonishing array of wardrobe changes in a fast-paced show that danced through her five-year catalog of songs. Like their beloved Mother Monster, Bay Area fans also took great care when selecting — and, in some cases, creating — their costume or ensemble for the evening.
We spotted pretty princesses of all ages (some with some very cool parents), fanciful mermen (one, pictured above, with hand-painted and sewn fish scales), and literal interpretations of monsterism. Some of these individuals threatened to steal the show before it had even began, causing rubbernecks in the main hall as people clamored to take pictures of them on their iPhones and iPads.
Our Facebook page contains some candid shots of Gaga fans celebrating a fun night out in San Jose. While you're there, why not gift us with a precious 'like?' Love can come later.