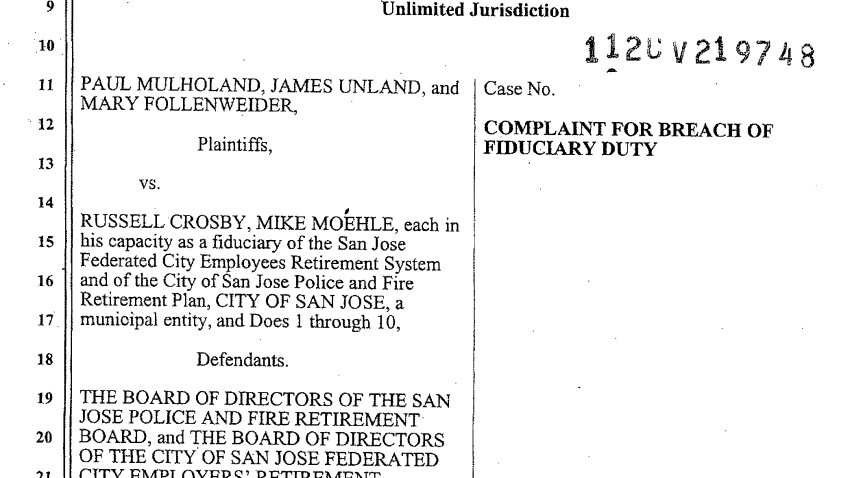 A lawsuit has been filed today against San Jose Director of Retirement Services, Russell Crosby and former city actuary, Michael Moehle
It was filed by current and former city employees who are participants in the city's pension program.
They allege the retirement board paid an independent consultant to generate a report last June on future retirement costs that used outdated and inaccurate information.
This report produced a dollar figure of $431 million as a five-year retirement cost projection that was used when negotiating pension reform with unions.
The lawsuit claims this report had no benefit to the retirement board and that it was requested for political motives, thus alleging it was a breach of fiduciary duty for Russell Crosby to request it and the board to pay for it.
Attorney Mark Renner presented the lawsuit at the Police and Fire Retirement Board meeting this afternoon.
We caught up with Renner after the meeting.
"The defendants in this lawsuit had one of the service -providers to these pension plans perform services that had nothing to do with administering the plan and only had to do with supporting an outside political objective," Renner says.
Russell Crosby, one of the defendants, told us he had no comment.
He said in a prior interview with NBC Bay Area that he requested the report on behalf of the city manager's office. Crosby also told us the numbers were accurate with the data that was available at the time.
Do you have something you want us to look into?
Email: TheUnit@nbcbayarea.com