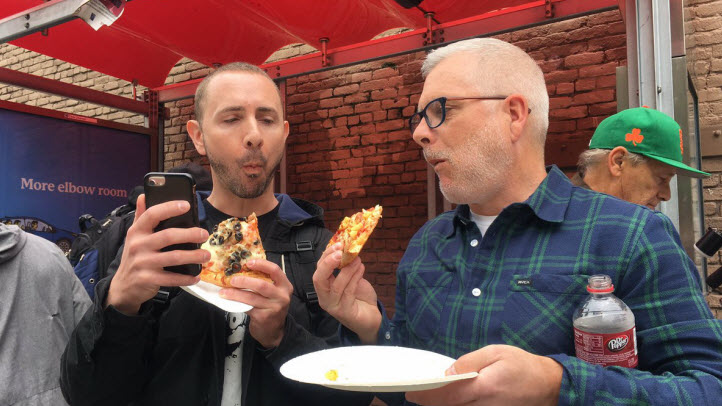 It wasn't a typical protest, but it conveyed a message.
On Friday, hundreds of people traipsed to Muni stops across San Francisco armed with slices of pizza — with all manner of toppings. #LegalizePizza, they demanded.
To stand in solidarity with a homeless man who on March 5 was eating a slice of pizza at a bus stop shelter when a police officer cited him for it. The man was handed a ticket — to pony up a $250 fine — for eating a pie that he bought for his friend's birthday, the San Francisco Chronicle reported.
The ticket pointed out that the homeless man was "eating or drinking in or on a system facility or vehicle in areas where those activities are prohibited by that system."
The man's experience irked Shaun Osborn and spurned the 37-year-old San Francisco resident to action.
"I reflected on the number of times I had done the same without incident," he said. "I quickly created an online event page and meme with a call to eat Pizza at a bus shelter on April 7th. #LegalizePizza was born."
The protest was conceived in a way that allowed people to partake in the gastronomical show of dissent at a time and location that was convenient, Osburn said. Many took to Twitter with pictures of themselves chowing down on pizza slices.
Although Osburn has not spoken to the homeless man who was cited on March 5, he has heard from others like him "who have been given absurd citations not normally levied upon housed people."
Osburn said none of the 100-plus protesters had any run-ins with the law.
Despite being the one to come up with the idea for a #LegalizePizza protest, Osburn acknowledged the importance of keeping public transit clean and "free of beverages and food."
However, he stressed, "Muni shelters are on public streets and are not actual stations. Citations such as this are far too often levied on poor and homeless people who do not have the resources to pay or fight them. Issuing them is a waste of taxpayer money and serve only to further hurt already struggling people."
NBC Bay Area has reached out to the San Francisco Police Department for a comment.