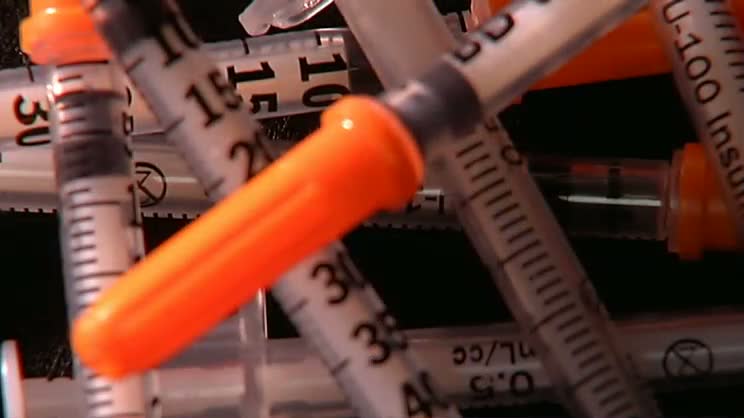 Librarians in San Francisco may soon have another task to fulfill besides taking care of books. It involves saving lives.
Library employees could be granted the ability to administer medication to the increasing number of heroin users frequenting the city's main library near Civic Center Plaza, according to the San Francisco Chronicle.
The idea to allow staffers to hand out naloxone, a medication that can reverse the effects of an opiod overdose, came about after a drug user was recently found dead inside a library restroom, according to the newspaper.
Naloxone, also known by the brand name Narcan, typically is administered by a nasal spray or leg injection.
San Francisco's main library has become a magnet for the city's homeless population, which has seen an increase in users of heroin and prescription painkillers.
"San Francisco is a city with lots of drug use," health department spokeswoman Rachael Kagan said, "and we consider people with drug-use issues part of the population we feel responsible for."
Last week, the Department of Public Health assigned a couple of staffers to patrol the library's perimeter to talk with people who appear to be at risk and to administer the opioid-blocking drug when needed.
The library also has a social worker and six formerly homeless health and safety associates who work at the city's 28 public libraries and provide outreach to those in need. There are also city police officers assigned to work overtime in and around Civic Center.
The health department estimates the number of addicts injecting drugs in San Francisco at between 15,000 and 22,000.
In 2014, there were 127 fatal opioid overdoses in San Francisco, the vast majority from prescription medicines, Kagan said. The same year, there were 365 overdose reversals with naloxone, she said. In 2016, the number of reversals more than doubled, to 877.
"When an overdose occurs in the library, we are the people most likely to be on the scene, not emergency responders," librarian Kelley Trahan recently told colleagues at a staff meeting, urging that they get on board with the naloxone program.
No decision regarding library workers joining the outreach effort will be made until the process is thoroughly analyzed, San Francisco librarian Luis Herrera told the newspaper. Herrera added that staff would not be forced to join in the effort. It would simply be voluntary.