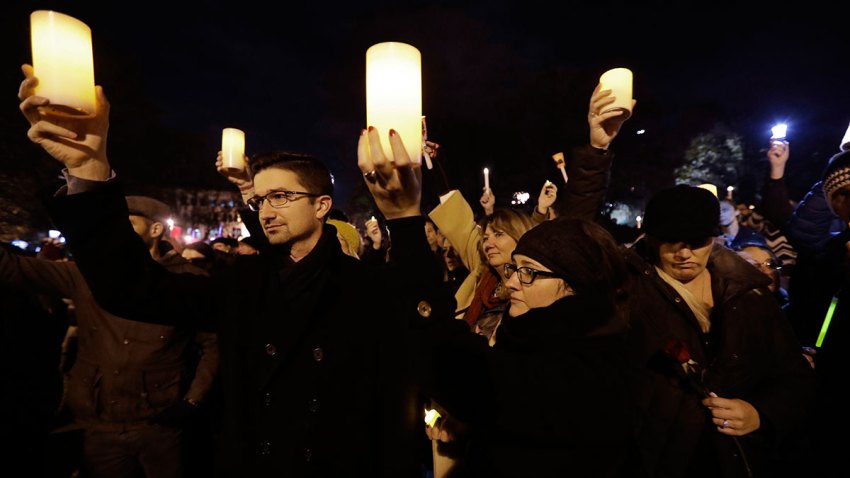 Artists, musicians and performers across the Bay Area have come together in the wake of the devastating Oakland fire, planning a spate of remembrance and fundraising events dedicated to the 36 victims who perished at the Ghost Ship warehouse.
Among the fundraisers are several benefit concerts. As many have pointed out, it was a shared love of music that brought the diverse crowd out last Friday for a Golden Donna concert. Several of the victims were musicians, including Cash Askew (Them Are Us Too) and Chelsea Dolan, also known as Cherushii from Berkeley radio station KALX.
All benefits listed below are contributing to the Gray Area Foundation for the Arts fire relief fund.
Friday: The Arlene Francis Center in Santa Rosa is hosting a benefit concert that features live performances from Joshua James Jackson, Attacrobat, Horders and Living in the 90's. Check out the Facebook event for more information.
Saturday: Hemlock Tavern in San Francisco will host a benefit concert with a roster that includes the Creepers, Religious Girls and Weed Alien. This show is 21+. For more information, check out the event's Facebook page.
Sunday: Grammy Award-nominee Moby is DJing at the Mezzanine in San Francisco. The concert also features Lights Down Low's Richie Panic and DJ CZ. In addition to music and dancing, the Mezzanine will also be home to a silent auction and raffle, with prizes including VIP festival tickets and signed memorabilia. Tickets are selling fast over on EventBrite.
Dec. 14: At the Fox Theater in Oakland, several Bay Area artists and journalists will take the stage on Dec. 14 for a night of "music and stories." The concert — fittingly dubbed Oakland United — includes Boots Riley (The Coup), Christopher Willits, Dan Deacon, Gabe Meline (KQED) Geographer, Hieroglyphics, Jay Som, Josette Melchor (Gray Area), and Primus, among others. See ticket information here.
Dec. 17: Eli's Mile High Club in Oakland will host performances from Zack Bateman and the Coal Minds, Blatherskite, Toxic Shock Syndrome, and more. There will be baked goods for sale, as well as original art. The concert was changed from its original location at Independent Brewery due to interest and demand.
Dec. 18: The Chapel of Chimes in Oakland will be hosting a 4-hour long afternoon musical community gathering that pays tribute to the Oakland fire victims, as well as other notable community members who were lost in 2016. Kitka, Tyrell Williams, Sarah Cahill and others will be performing. Check out the Facebook event page for more information.
There are also several ways to help artists who may be displaced as a result of the fire, including residents who previously lived at the Ghost Ship. Amoeba Records has compiled a list of several of those fundraisers.
This list will be updated to with additional benefits as they are announced. If you know of an event happening, pleaser email or text NBC Bay Area's Contra Costa County reporter, Gillian Edevane, at Gillian.Edevane@NBCuni.com or (669) 263- 2895.