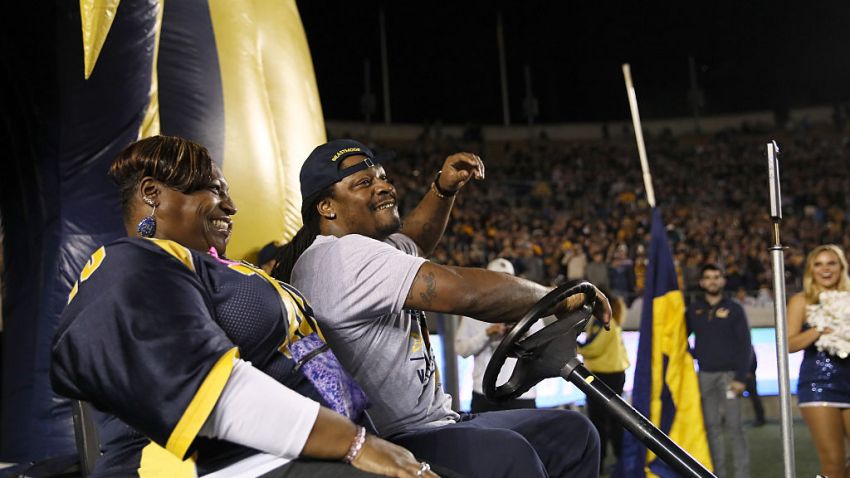 A few more pieces have been added to the puzzle that is the Marshawn Lynch-to-the-Raiders scenario.
The former Seahawks star, 30, who sat out the 2016 season after retiring, still may not make a comeback with the Raiders in 2017. Oakland would need to compensate Seattle because that franchise still holds rights to his contract, and Raiders general manager Reggie McKenzie also would need Lynch to agree to a deal that fits into the team's salary structure.
But Lynch, who grew up in the East Bay and went to Cal, reportedly visited with the Raiders and head coach Jack Del Rio this week and told the team he plans to end his retirement. Plus, Seahawks general manager John Schneider said in a Seattle radio interview this week that if Lynch wants to make a comeback, a deal with Oakland could be done "in a smooth manner" because of his relationship with McKenzie.
Plus, there's this: Lynch's apparel company, Beast Mode, now has several new items listed on its online store in silver and black, reports Levi Damien, who writes about the Raiders for SB Nation.
There's a T-shirt and sweatshirt in Raiders colors featuring a football helmet and "Beast Mode Oakland," plus two other shirts with "Beast Mode Oakland" and "Da' Town Beast Mode," a nod to Oakland and the Golden State Warriors.
Damien pointed out the new silver-and-black apparel made its debut on the site a day after Lynch visited with Del Rio at the Raiders facility.
Wrote Damien: "The change in his available clothing is a pretty good sign for how that meeting went."
Also, Paul Gutierrez of ESPN.com reported Friday that Lynch's mother, Delisa, said in a recent SiriusXM NFL Radio interview that Oakland is her forever home and she's "a Raider girl," so is excited about the prospect of her son playing for her favorite team. It would seem that if she has any pull, Marshawn Lynch could be taking handoffs from Derek Carr in 2017.
"The Town is buzzing and everybody is loving it, then I am, too," she said.