The Santa Cruz County District Attorney on Wednesday charged a 15-year-old boy with murder and kidnapping in the death of an 8-year-old girl who vanished while riding her scooter near her apartment on Sunday afternoon.
The decision to charge Adrian Jerry Gonzalez as an adult in the death of Madyson "Maddy" Middleton was announced by Jeffrey Rosell at a news conference on the county courthouse steps.
Rosell said he couldn't remember any similar cases in recent history.
Gonzalez is scheduled to be arraigned on Thursday. He is being housed at a juvenile detention facility. Gonzalez, a minor, is being named publicly because he is charged as an adult.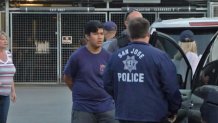 Rosell would not go into the specifics of the case. But he said the charges are: one count of murder that includes special circumstances of lying in wait, kidnap and sexual assault, and other counts related to sexual offenses and kidnapping. The maximum penalty for the crimes is life in prison, Rosell said, as the death penalty is not applicable to minors.
Because of his age, authorities have declined to say whether the teen had a record.
A motive in the case has never been offered.
"People do things things for all sorts of reasons," Rosell said. "Sometimes we understand them and sometimes we don't."
A call to the Santa Cruz County Office of the Public Defender for comment on the case wasn't immediately returned.
Attempts to speak to the teen and his mother have not been successful. A woman who appeared to be his mother wailed in front of a bank of TV cameras on Monday night as the boy was led off in a patrol car calmly.
Some neighbors who know the boy, however, said that he is a good kid who comes from a loving family. Even the boyfriend of Maddy's mother, Kirby Scudder, told NBC Bay Area that Gonzalez is a "great kid." Others knew him for throwing a yo-yo around the complex.
On Tuesday, Santa Cruz Police Chief Kevin Vogel said that Gonzalez "lured" Maddy up to his apartment on Sunday afternoon or evening, and killed her, before carrying her body down to a recycling bin at the apartment complex where both lived. Police didn't find her body until about 8 p.m. Monday.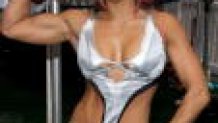 Vogel also said that evidence, including the girl's belongings, witness statements and video surveillance, links Gonzalez to Maddy's death. He also said the "suspect went to great lengths" to disguise and conceal the body left in the dumpster.
The 8-year-old's death has left many near and far in shock and disbelief. Santa Cruz residents held a vigil for her on Tuesday night and the Rio Theatre dedicated its marquee to her.
Neighbors at the Tannery Arts Center said they were stunned by the death. The center is a public-private nonprofit that includes 100 affordable loft apartments for artists and their families. About 250 people live in the complex, including about 50 children.
A memorial has been set up in Madyson's honor, overflowing with dozens of bouquets, stuffed animals, balloons, candles and notes.
On Wednesday, a group of girls about Madyson's age were crying at the memorial. One girl was walking Madyson's dog, Lucy.
The Associated Press contributed to this report.