A 4.3 magnitude earthquake jolted the East Bay Tuesday afternoon, followed by a smaller 3.2 temblor, according to the USGS.
The 4.3 quake reported at 1:11 p.m. was centered 7.7 miles east of Blackhawk and 9.2 miles north of Livermore, the USGS reported. It was felt across the East Bay and other parts of the Bay Area.
"At first it was just a little shake, and then there was a slight pause, and then one of those, kind of, bigger jolts," Brande Timmons of Danville said.
USGS initially reported the earthquake was a magnitude 4.4.
A magnitude 3.2 aftershock struck the same area at 1:24 p.m., according to the USGS. The temblor was initially classified as a magnitude 3.5.
There were no immediate reports of any damage.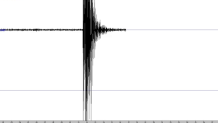 The quakes likely occurred along the lesser-known Greenville Fault, which runs about 44 miles from the Livermore Valley to the Diablo Range.
The last significant quake on the fault was a 5.8 magnitude temblor back in 1980.
Tuesday's quakes come a day after a magnitude 3.3 earthquake rattled the South Bay.
Track the latest Bay Area earthquakes using NBC Bay Area's interactive quake map.