The man who police said drove into a crowd, injuring 8 people, late Tuesday in Sunnyvale has been identified as Isaiah Joel Peoples.
Peoples, 34 and a Sunnyvale resident, was arrested and booked into Santa Clara County Jail. He was being interviewed by the FBI on Wednesday. The FBI is assisting the Sunnyvale Department of Public Safety in the investigation.
Police are recommending eight counts of attempted murder against Peoples.
All eight pedestrians injured, including a 13-year-old, were hospitalized Tuesday evening after a suspected speeding driver, later identified as Peoples, drove into them in Sunnyvale, California.
Of the eight victims, six were hospitalized and two were treated on the scene and released by paramedics, Sunnyvale Department of Public Safety Capt. Jim Choi said.
The 13-year-old is listed in critical condition. The youngest victim is 9 and his father was able to get him out of the way, Choi said, adding the child is a victim of attempted murder.
The other victims' conditions ranged from moderate to major injuries, Choi said.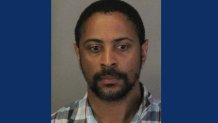 FBI agents and police were seen Wednesday afternoon searching Peoples' residence in Sunnyvale.
"Should it be determined that a federal crime was committed, we will become more involved," the FBI said in a statement.
The crash was reported at 6:40 p.m. at the intersection of El Camino Real and Sunnyvale Saratoga Road, which is located near a number of restaurants and other businesses.
Choi said evidence indicates the crash was an intentional act.
"As of right now there is no indication that the suspect, Peoples, was involved in any or an associate to any terrorist organization," Choi said. "There is no indication that this act in itself was related to an act of terrorism."
Police are still investigating a motive.
The car involved in the collision is registered to Peoples, according to the Department of Motor Vehicles.
An IHOP receipt recovered from the site of the crash shows the name of an Isaiah Peoples who used a Visa card to pay for his purchase on April 13.
Personal information on what appears to be Peoples' Facebook page, but wasn't confirmed by NBC Bay Area, shows went to school at California State University, Sacramento.
Bob Redell and Riya Bhattacharjee contributed to this story.