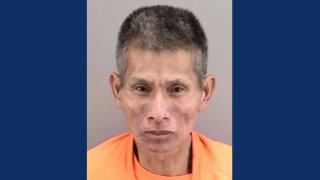 Officers in San Francisco arrested a man last week after he allegedly tried to set two separate fires outside a church in the city's Chinatown neighborhood, police said.
On Wednesday, officers arrested Jingwen Yu, 51, in the 800 block of Clay Street on suspicion of attempted arson and for an outstanding theft warrant, police said.
On Nov. 14, an employee at the First Chinese Baptist Church, located in the first block of Waverly Place, told officers they found a burnt piece of paper outside the building, although the building didn't sustain any damage.
Video surveillance from that morning showed a suspect placing material on the sidewalk along the church's wall and igniting it, police said.
A week later, the church reported to police another arson attempt that occurred on Nov. 15, when a pastor found remains of a fire set outside the church near a vent.
Surveillance video confirmed that the suspect from the previous attempt tried to set a fire outside for a second time, although the building didn't sustain any damage once again, according to police.
Officers then put out a crime bulletin for other officers, ultimately leading to Yu's arrest just about a block from the church.
Copyright B