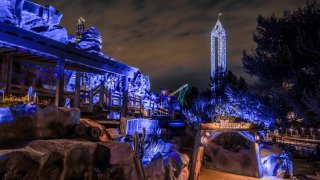 Police and firefighters were on scene at Knott's Berry Farm Saturday night after a person climbed to the top of the Supreme Scream ride.
La Palma between Beach and Western has been closed.
The Buena Park Police Department urged the public to stay out of the area while they work on removing the person off the ride safely.
It was not immediately clear how the person was able to climb the ride.
There were no immediate reports of injuries.
This is developing news. Please check back for updates.