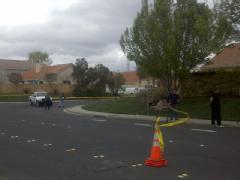 An 85-year-old Northern California man remains in serious condition while investigators work to find out who built the bomb that exploded when he picked up a newspaper from the lawn beside his driveway.
Jose Sanchez-Zarco had the little finger on his right hand nearly severed and suffered injuries to his arm, side and leg in the Sunday morning blast outside his home in Vacaville. He has been listed in serious condition at a Sacramento hospital since having surgery Monday.
Police and neighbors say the bomb went off when Sanchez-Zarco picked up the newspaper, which was inside a plastic bag. The paper was on a lawn between a neighbor's house and Sanchez-Zarco's.
Vacaville police are working with federal Bureau of Alcohol, Tobacco and Firearms investigators.
Copyright AP - Associated Press