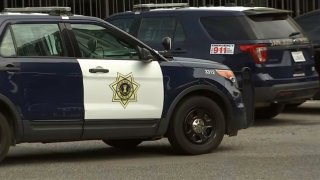 A man died in a shooting in East San Jose on Tuesday afternoon, according to police.
The shooting was reported at 12:21 p.m. in the 3200 block of Kawalker Lane, where officers arrived to find the victim suffering from at least one gunshot wound. He was pronounced dead at the scene and his name has not been released.
San Jose police have not identified or arrested a suspect in the shooting, which remains under investigation.
Anyone with information about the homicide, San Jose's 10th of 2021, is asked to contact Detective Sgt. Lewis or Detective Meeker with the San Jose police homicide unit at (408) 277-5283. People can also call anonymously to the Crime Stoppers hotline at (408) 947-7867.
Copyright BAYCN - Bay City News