Even if you haven't seen Netflix's controversial new show "13 Reasons Why," there's a strong likelihood you've heard about it.
The teen drama focuses on 16-year-old Hannah Baker, who commits suicide and leaves behind audio tapes for people who were, in some way, instrumental in her life and death. It has drawn praise from corners of the internet for tackling teenage depression, and scorn from psychologists, critics and parent councils for glorifying suicide. Some schools have even sent out warning letters to parents about the show's triggering content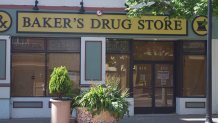 According to producers, Crestmont — the fictional small town the teens live in — is supposed to represent suburbs across the United States. It was literally envisioned as "Anytown, USA," allowing fans to come away thinking that the events unfolding in the show could have happened in their own community, their own local high school, their own coffee shop. But for Bay Area viewers, the setting may hit particularly close to home.
Some of the show's most significant scenes — from those at Monet's coffee shop to the Baker's pharmacy — were shot on location in the Bay Area. Click through the map above to see just how close Claremont is to the East Bay.