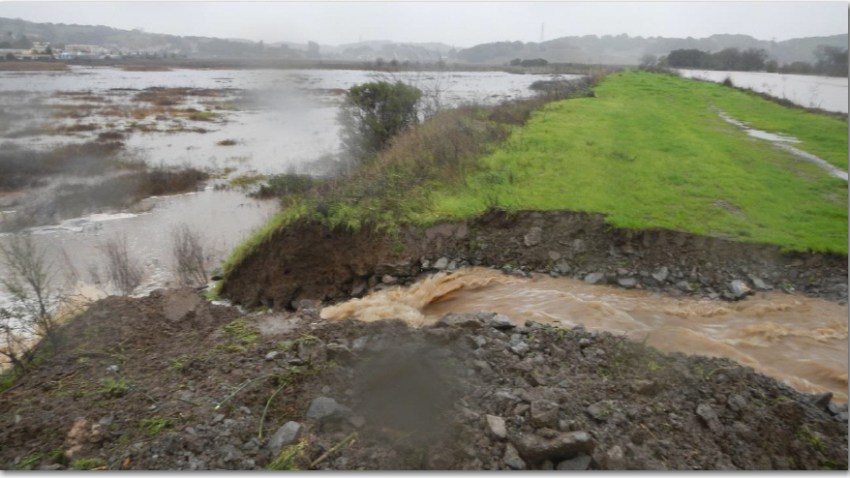 With rains reaching near-record levels in California this winter, the storms have brought much relief to the drought-stricken state, but the rains have also brought flooding, mudslides and other damages.
As of Thursday, four counties in California, all in the northern part of the state, have proclaimed "local emergencies," according to Lilly Wyatt, spokeswoman for the State Office of Emergency Services. Only the governor can proclaim a state of emergency.
Tehama County decided to note the "public calamity" first, on Dec. 9, after Sheriff Dave Hencratt requested the board of supervisors formally issue the proclamation.
Sonoma, Marin and Lake counties are the other three counties where the boards of supervisors there proclaimed local of emergencies.
According to the state Office of Emergency Services, Monterey and San Mateo counties are preparing to proclaim, and Butte County is considering, also.
These types of proclamations kickstart the formal request for for state and federal financial aid if the need arises. Sonoma County has asked for the most so far - $17 million, and Marin County has asked for $1 million. The other two counties have not yet specified a dollar amount as crews are still assessing the damage.
The wreckage in each of the counties are related to the drenching rains, which have caused mudslides into homes, crumbled highways and in the case of Marin County, a breached a levee near downtown.
But just because a county asks for state help, doesn't mean they get it all.
In 2005, for example, Marin County suffered $12 million in damages during the stroms then. Marin County spokesman Brent Ainsworth said FEMA reimbursed the county for $8 million of it.
The wet December, however, did bring some cautious optimism to the state. The U.S. Drought Monitor said that reservoir levels have improved slightly, and the Sacramento River is at it's highest level since December 2005.
Meteorologist Christina Loren said over the next week, Northern California should remain relatively dry.
Updates: Interactive Radar and Severe Weather Alerts
NBC LA's Jonathan Lloyd contributed to this report.