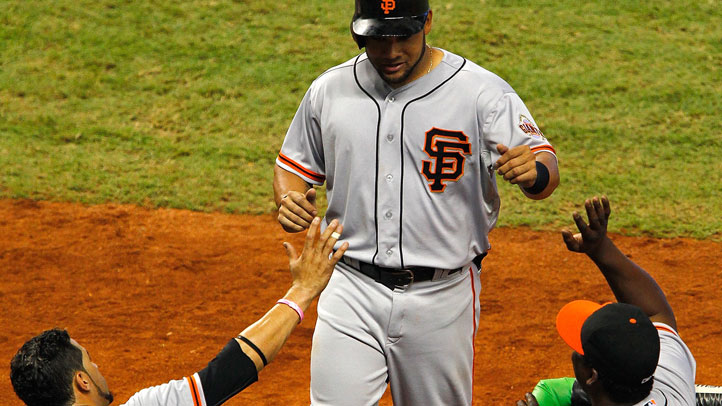 It feels like at least once a week we start talking about how hot Melky Cabrera's been this season. One random reason could be his ability to get scorching on Sundays: for the third-straight week, Melky's got his third-straight Sunday game with four hits.
That's part of what contributes to Melky having an MLB leading 73 hits, and a very big reason for why Melky's teammates are lobbing literally laughable descriptions on his performance thus far.
"A joke," Gregor Blanco said per Andrew Baggarly of CSNBayArea.com. "He's hitting line drive, line drive, line drive. It's amazing."
Melky's performance was also described as "ridiculous" (Matt Cain), "unbelievable" (Angel Pagan), "amazing" (Sergio Romo) and "wow" (Bruce Bochy).
"It's hard to describe the job he's done for us," Bochy said. "Defensively, with the bat. He's really playing some great baseball. I'd hate to think where we'd be without him."
The Giants wouldn't be sitting at 25-23, that's for sure. They're averaging just 4.08 runs per game and giving up 4.06 per contest; if Melky's not on the roster, the Giants are likely below .500. He's been worth 2.4 wins above a replacement player statistically, but it's hard to imagine he hasn't actually been worth more than that.
And that applies double as of late -- over his last 10 games, the Melk Man's been absolutely unholy. He's got a .524/.553/.857 (!) line with two homers, nine RBI, four walks, four stolen bases and two triples.
And his hot streak now gives him the second-most hits through 48 games in San Francisco Giants history. The only guy ahead of him? A fella you've likely heard of: Willie Mays.
"I didn't know I was up there," Melky said (through translator Romo). I'm really happy to be mentioned in the same sentence as Willie Mays."
The Giants are pretty happy too, because it means that he's hitting the ball so well, the team can piratically laugh about it.