What to Know
Stanford's Lucile Packard Children's Hospital has been training local fire departments for 10 years
Firefighters use their own medical equipment to treat "high-fidelity mannequins" that have pulses and breathing sounds
The simulated emergencies are among the most unusual pediatric cases recorded around the Bay Area in the past year
"Thank you so much for coming — I called you right away," exclaimed a flustered pediatrician as three Menlo Park firefighters entered an exam room where a half-conscious baby lay on the table.
The pediatrician was real — the baby was not. For the next 15 minutes, the firefighters tried to revive the tiny plastic mannequin using the real medicines and defibrillator they carry aboard Engine 1, as doctors and nurses looked on from behind one-way glass.
"We tell the Menlo guys, 'You are both blessed and cursed to be right next to a world-renowned pediatric hospital,'" said training consultant Michael Jacobs.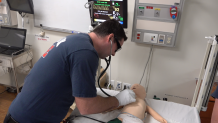 Jacobs works for Revive, a Stanford initiative to teach resuscitation skills to hospital staff. Revive, which is based at Lucile Packard Children's Hospital, has worked with local fire departments including Menlo Park's for 10 years to help them better respond to pediatric medical emergencies.
"Folks come from all over the world with sick children for solid organ transplants," Jacobs said. "A lot of times they reside in the Menlo Park or Menlo Park surrounding area while they may be waiting for their new heart for their son, or waiting for their new liver or kidney for their daughter."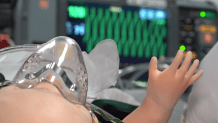 Indeed, a rare heart ailment and an infant with kidney failure were among the cases firefighters were asked to during this year's annual simulation course.
"Every year we come here, it's a little different," said Menlo Park fire captain Jim Montalvo, who's spent 28 years in the fire service. "They mix it up, they give us different scenarios, so you don't know what you're walking into — like a real call."
Revive uses "high-fidelity mannequins" that give firefighters an added level of realism over the dummies they train with at the firehouse. They have pulses and breathing sounds, and can take injections and shocks from a defibrillator.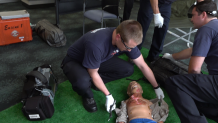 "It's a great opportunity for us to put a stethoscope or an IO needle into the mannequin and actually push medicines," said Menlo Park firefighter Randy Roller.
"These are skills we don't use often," said Dave Magnan, a probationary firefighter who just joined the department. "Extreme cardiac cases in pediatrics, it's kind of rare, fortunately, so the opportunity to do it on a simulation is an invaluable experience."
Revive director Lynda Knight said in the years since it started, the training program has turned out to be a two-way street. While the fire department benefits from Stanford's medical research and training tools, she said hospital staff have a lot to learn from watching the firefighters.
"Their communication skills, how well they work together — I'm impressed every time we do this," she said.