Editor's Note: The original version of this story said a San Francisco police officer's service weapon was stolen from his car. The story has been corrected to indicate it was his personal gun.

Last June, disgruntled United Parcel Service employee Jimmy Lam walked into one of the company's San Francisco facilities and opened fire on his colleagues with a Mac-10 assault pistol, a firearm illegal to own in California. The gun, according to police reports, had been previously stolen in Utah. Wielding that Mac-10, Lam killed three of his colleagues and wounded two others. As police converged, Lam turned a second gun on himself. That firearm, according to police records, had been stolen in Napa County.
From the mass shooting at the UPS facility to the murder of Kate Steinle, who was killed with by a gun swiped from the vehicle of a federal law enforcement officer in San Francisco, stolen guns have fired fatal rounds in some of the Bay Area's most high-profile crimes in recent memory. NBC Bay Area also found many stolen firearms that traveled long distances, sometimes across the country, before they were tied to local crimes.
A year-long investigation by more than a dozen NBC television stations that teamed with the nonprofit journalism organization "The Trace" identified 23,145 stolen firearms recovered by police nationwide between 2010 and 2016 – the vast majority connected with other crimes. The investigation found more than 1,570 of those guns were tied to violent crimes including assault and battery, sexual assault, robbery and murder.
US Justice Department data shows hundreds of thousands of firearms are stolen each year throughout the United States. US officials say those stolen guns flow into a black market fueling violent crime in cities across the country. And the numbers are rising.
"The impact of gun theft is quite clear," said Frank Occhipinti, deputy chief of the firearms operations division for the Bureau of Alcohol, Tobacco, Firearms and Explosives. "It is devastating our communities."
Because of federal laws that prevent public access to federal data on crime guns, it's impossible to pinpoint exactly how many stolen guns are later tied to other crimes. But The Trace and NBC stations bypassed federal agencies and obtained more than 842,374 records including 204,338 that were reported stolen and 318,083 that were later recovered by law enforcement. The data comes from more than 1,000 local and state law enforcement agencies in 36 states plus the District of Columbia. By cross-referencing serial numbers of guns reported lost or stolen with serial numbers of guns connected to crimes, the investigation identified at least 23,145 matches.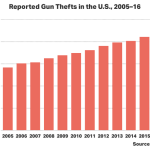 "If we don't get a handle on this problem, that number is just going to keep rising and rising and rising," Occhipinti said.
Even with the large number of guns records we obtained, it's impossible to gauge the exact impact of stolen guns on crime in Bay Area communities. Although more than 1,000 police agencies across the country provided records for this story, the San Francisco and Oakland police departments declined to hand over serial numbers of guns connected to crimes in those cities, leaving major gaps in the data. The Los Angeles Police Department also refused to provide those records. Officials with the Oakland Police Department and the Oakland City Attorney's Office did not respond to months of emails and phone calls from NBC Bay Area's Investigative Unit to discuss the story.
The San Francisco Police Department also declined several requests for interviews with Chief William "Bill" Scott, but the NBC Bay Area Investigative Unit caught up with Chief Scott at a public town hall meeting where he agreed to answer several questions.
"I'm always concerned about guns on the street," Chief Scott said. "Stolen guns tend to end up in the hands of people that have bad purposes."
Scott also addressed the recent theft of a firearm from the personal vehicle of a San Francisco police officer that was later used in a gang-related homicide.
"We have to look at whether [officers] are following policy," Scott said. "You know we had a very high profile incident and that is one of the issues that we are looking at: whether policies were being followed. We are not above the law."
Despite the holes in the data obtained by the investigative team, the numbers make very clear that an underground economy gives people prohibited from legally purchasing guns, such as convicted felons, access to a bevy of deadly firearms. And it's a market awash in guns. According to the National Crime Information Center, a database maintained by the Federal Bureau of Investigation, 2,050,846 guns were reported stolen or lost through the U.S. between 2006 and 2016.
That NCIC number of lost and stolen firearms is low, according to federal officials. The reason:, because some gun owners never report a gun theft or can't recall serial numbers when they do file such a report. The Center of American Progress, a left-leaning public policy group, estimates the annual tally of stolen firearms surpasses 350,000.
"There simply is no national registry or no database of gun ownership in America," said Neil Troppman, program manager at the Bureau of Alcohol, Tobacco, Firearms and Explosives National Trace Center.
Troppman gave the investigative team a rare, behind the scenes tour of ATF's National Trace Center where agents attempt to trace crime guns to their original seller and any owner after that. But because there is no national database of gun ownership and no federal gun registration, sometimes the trace hits a dead end.
"What we're doing is we're only responding to requests for guns that are recovered in crime to try to identify that first retail purchaser so that the investigating agency can determine if that first purchaser was in fact who committed the crime or the suspect in their investigation," said Troppman, "Or at least give them a lead to try to determine what happened to the firearm after it was made at that initial retail purchase."
Five years ago, two armed robbers in the midst of a crime spree that left a bloody trail through San Jose were in possession of one of those stolen guns. Rory Park-Pettiford, 22, was parked outside a 7-Eleven in his brand new red BMW when he was shot and killed in what police described as an attempted carjacking. The robbers later shot and wounded a San Jose police officer attempting to apprehend them.
According to data obtained by NBC Bay Area, one of the guns later booked into evidence by police in connection to Park-Pettiford's murder was a Glock .23 caliber handgun reported stolen in Riverside County two years earlier.
"Emotionally, for my parents, it was completely devastating," said Dylan Park, Rory's brother.
Park, an Iraq War veteran, said not even the war prepared him for the impact of losing his brother.
"I would say that Rory's death caught me more off guard than any roadside bomb in Iraq ever could," Park said.
NBC Bay Area's investigation identified at least 62 additional homicides in California tied to stolen guns between 2010 and 2016. But considering the California data is missing records from San Francisco, Oakland, and Los Angeles, the true number is likely substantially larger.
In an interview last year, Lokita Carter, whose husband Steve was shot and killed by three transients armed with a gun stolen from a car parked in San Francisco, vividly described the night she learned of her husband's murder as she underwent treatment for cancer.
"It was just devastating," Carter said. "Having cancer is one thing. Having rare, invasive cancer is another thing. Having the police standing outside at 3 in the morning saying, 'we have some unfortunate news for you, your husband was shot dead a few miles away,' was a bad nightmare.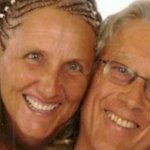 In 2015, the same year Carter was killed; four other Bay Area homicides committed with stolen guns grabbed headlines:
- Olga Dinelli, 84, killed on Feb. 26 – Dinelli was tied up and shot in her Penngrove home by two fugitives wanted for the recent theft of firearms out of a Marin County home.
- Kate Steinle, 32, killed on Jul. 1 – Steinle, a Pleasanton resident, was shot and killed while walking with her father along San Francisco's Pier 14. The gun that killed Steinle was stolen from a Bureau of Land Management ranger's vehicle while parked in San Francisco.
- Antonio Ramos, 27, killed on Sept. 27 – Ramos was shot and killed while working on a mural for peace in Oakland. Police say Ramos was shot with a gun stolen from the parked vehicle of an U.S. Immigration and Customs Enforcement Officer.
- Audrey Carey, 23, killed on Oct. 3 – Carey, a Canadian tourist visiting San Francisco, was found dead in Golden Gate Park with a gunshot wound to the back of the head. The shooting coincided with the city's Hardly Strictly Bluegrass Festival where thousands of visitors flock to the park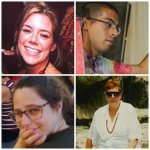 And just outside the Bay Area, our investigation found that guns help fuel an epidemic of violence in Stockton.
According to police data obtained during this investigation, stolen guns have been seized in connection to more than 400 crimes in Stockton since 2010, including at least 12 homicides.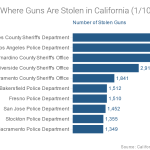 More than 1,350 guns were reported lost or stolen in Stockton over the same time period, according to California Department of Justice data.
One of those stolen guns in Stockton belonged to former mayor Anthony Silva. A gun stolen from his home was later used to gun down a 13-year-old boy in the driveway of his home. Silva, who did not report the gun missing until nearly a month after the shooting, said he wasn't aware the gun had been stolen because he wasn't living in his home at the time.
Gun theft in Stockton outpaced every Bay Area city except for San Jose, which had 1,452 reports of lost or stolen guns over the same time period. Since 2012, data from the San Jose Police Department shows at least 85 stolen guns were seized in connection to crimes in the city, including the murder of Rory Park-Pettiford.
"This is something that shook our quiet little town," Dylan Park said. "Everybody knew Rory. Everybody knew our family. When Rory was murdered, Campbell shut down a street for his funeral procession."
According to the ATF, most crimes connected to stolen firearms occur in the same city as the original gun theft.
"Most of the time we find these guns being recovered in the same state or metro area or nearby metro area from where they were stolen," said Kevin O'Keefe, Chief of Operational Intelligence for the U.S. Bureau of Alcohol, Tobacco, Firearms and Explosives in Washington, D.C.
The team's investigation did, however, find many stolen guns do move from city to city. According to the data, 41 percent of guns stolen in California and later found in connection to crime scenes move from the original law enforcement jurisdiction where they were stolen. An analysis of the data shows that some stolen guns travel great distances. In California, much like the Mac-10 Lam used to spray rounds into his colleagues at the UPS facility, NBC Bay Area matched dozens of guns seized by local law enforcement to guns that were previously reported lost or stolen in other states.
"These guns move very quickly," O'Keefe said. "So it could be from a matter of days to sometimes 15, 20 years later. These guns are still being recovered in crimes. Guns are not perishable. They don't wear out and disappear."
A firearm reported missing in Las Vegas, for example, was later tied by police to a San Bernardino homicide. Other guns tied to California crimes were previously reported lost or stolen in cities as far away as Atlanta, Baltimore, Seattle, St Louis, El Paso and Arlington, Texas.
Stolen guns flow the other way, as well.
Three separate firearms reported stolen in the Bay Area were later tied to crimes in Baltimore, Maryland. A gun stolen in San Mateo later turned up in Durham, North Carolina.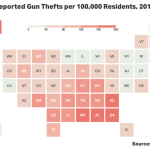 While the vast majority of stolen guns are ripped off from everyday gun owners, NBC Bay Area's investigation found law enforcement officers are increasingly becoming victims of gun theft, sometimes with deadly consequences. Guns stolen from federal law enforcement agents were used to kill Kate Steinle in San Francisco and Arturo Ramos in Oakland.
Those shootings got the attention of U.S. Congressman Mark DeSaulnier (D-Walnut Creek).
"If I'm a gun owner and I'm responsible, part of that responsibility is to make sure it's stored properly," DeSaulnier said.
DeSaulnier recently introduced legislation in Congress that would hold federal law enforcement officer accountable for the safe storage of firearms that are not in use.
"We just dropped a bill that would replicate what's been done in California that would require the 80 public safety agencies in the federal government to come up with a specific process to have all firearms locked and stored properly," DeSaulnier said.
DeSaulnier said it's time Congress took an evidenced based approach to addressing gun violence.
"We know if [guns] are properly locked and stored they're less likely to be used in criminal activity, they're less likely to be stolen and they're less likely to hurt someone in the family or be used by the person who owns the gun or a family or relative to be used in suicide."
But it's not just the Feds. NBC Bay Area's investigation found Bay Area law enforcement agencies can't account for more than 750 firearms.
Questions around responsible gun ownership are controversial.
The National Rifle Association declined to be interviewed for this story, but a in an e-mailed statement, an NRA spokesperson said the group considers any potential law mandating the reporting of lost or stolen firearms to be overly-punitive.
"Reporting a firearm stolen does not mean the police go out and find it – on the contrary. It simply means the firearm is on record as stolen. Most law-abiding gun owners are incentivized to report stolen firearms for insurance purposes and to prevent themselves from being implicated if a crime is committed with the firearm. A law that requires reportage is nothing but punitive. It does not prevent crimes from being committed, and it only serves to further victimize an otherwise law-abiding person(s) after they've been robbed. To reduce crime, we need to look to solutions that actually might reduce crime. Punishing law-abiding gun owners for being robbed does not serve a public safety purpose."
Critics of the status quo not only want to see mandate reporting requirements for lost and stolen guns, but they say gun owners bear some responsibility for what happens after a firearm is stolen if carelessness or negligence was a factor.
After losing his brother, Dylan Park is firmly in this camp.
"Punish folks that lose their weapons," Park said. "It's as simple as that. You wouldn't leave a child alone. If something happens to that child, you're responsible for that child. So what's the difference here?"