The community at a North Bay elementary school is grieving the tragic loss of two young sisters, who drowned Wednesday when their mother, who officials say was driving without a license, reportedly lost control of their car and plunged into the Petaluma River.
Grief counselors and even a therapy dog were brought to the Waldon Rohnert Park Elementary School on Thursday to help students deal with the deaths of their classmates, 7-year-old Sayra and 9-year-old Delilah Gonzalez.
"The mood is very somber," said Matt Marshall, the director of student services at Cotati Rohnert Park Unified School District.
According to the California Highway Patrol, the girls' mother, 26-year-old Alejandra Hernandez, dropped her husband off at work around 8 a.m. Wednesday before taking her daughters to school. Hernandez said she lost control of her car when someone cut her off on Petaluma Boulevard North near Gossage Avenue. A CHP log indicates that the incident involved a vehicle and a bicycle, but no further details were immediately available.
The family's Chevrolet Impala ran off the road, slid down an embankment and plummeted into the river. A witness was able to get Hernandez, who climbed on to the roof of the car, to shore. The girls, however, did not survive the crash.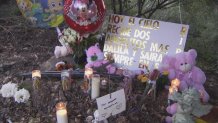 "These were two beautiful, wonderful girls who participated in lots of teams and sports and other things, so we know they have friends around the community and we want to support them as well," said Superintendent Robert Haley.
Wednesday's accident occurred nearly a week after another pair of young sisters died when their mother lost control of a pickup truck and drove into the Russian River. Four-year-old Hailey and 6-year-old Kaitlyn Markus also attended school in the same district as the Gonzalez sisters.
The deaths have been difficult for the young students to handle, school officials said.
"It's very new to them," Marshall said. "They're not adults like us who have loved ones who have passed on. So it's important for us to let them know it's OK to be upset, it's OK to cry."
The school district also has substitute teachers on standby, in case teachers need a moment to gather themselves. Grief counselors will be available to students for the rest of the week.