Gusty winds ripped through the Bay Area on Tuesday, especially in the North and East Bay hills, prompting early morning wind advisories for Bay Area bridges.
Since Sunday, 2.5 inches of rain have fallen in San Francisco, more than 5 inches have fallen in some areas of the Peninsula and 3 inches have fallen in Oakland.
The region's most rainfall was in the Mt. Tamalpais area of Marin County, which had over 8 inches, meteorologist Matt Mahle said.
The South Bay, however, has seen little rain. Only 0.75 inches fell in San Jose, Mahle said.
The weather snarled both highway traffic and travel in the skies for some. By early Tuesday morning, there were about 20 canceled flights from San Francisco International Airport — 13 arrivals and seven departures. An airport spokesman said delays would average 57 minutes throughout the day.
Downpours and blustery winds also downed several trees and thousands of Bay Area residents found themselves without power.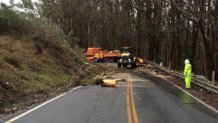 The California Highway Patrol in Marin County tweeted out photos of trees that fell on state Route 1, which was also closed at US 101 because of high tide flooding.
Similar scenes were reported across the Bay Area after trees weakened by years of drought gave way.
A huge ficus tree also crashed down onto Park Street in Alameda. In Petaluma, two Eucalyptus trees fell onto a horse stable, killing a horse inside.
Bay Area residents will get a break from rainfall on Wednesday after the current storm moves out of the region.
Another storm expected to arrive Thursday will not bring as much precipitation but will be much colder and could make for a white Christmas in the higher peaks around the Bay Area, Mahle said.